Description
Gelato Seeds | Feminized Photoperiod
The Gelato seeds strain, a native to California is a woody and smooth strain that incorporates flowery lavender and earthy notes. The flavor gradually transfigures into citrus and berries on exhale. It's a great strain to boost your mood and spirits, while also helping to inseminate creative energy with intense focus. Gelato is also used for a long list of habitual conditions as well, making it a great choice as a medicinal flower.
Strain Profile

 Strain Genetics
Thin Mint GSC X Sunset Sherbet
 Strain Dominant
 60% Indica / 40% Sativa
 THC Content
 25%+

 CBD Content
 <1%
 Flowering Time
 8-9 Weeks
 Flowering Type
 Photoperiod
 Yield
 Indoor 450 gr/m² / outdoor up to 1.5 lb per plant
 Taste / Flavor
Citrus, Earthy, Lavender, Strawberry
 Effects
Creativity, Euphoria, Happy, Relaxation
 May Relieve
Chronic pain, Cramping, Inflammation, Muscle spasms
 Best to Grow
 Indoor / Outdoor
What is the strongest strain of Gelato?
Sometimes referred to as the Larry Bird strain, Gelato was originally bred by Cookie Fam Genetics in San Francisco.  Numerous phenotypes of Gelato were released over time by these master breeders, but Pheno #33 is the strongest and the one most frequently associated with the iconic strain – hence its alternate name ' Larry Bird '( the basketball icon's old number).
Beyond its affiliation with a basketball legend and origins, Now bred in Canada, Gelato cannabis has become world-famous for its unique effects, which are balanced and won't leave you crashing in the end.
What is the Gelato Marijuana Strain?
Is Gelato more Sativa or Indica?
Gelato seeds bred in Canada are a must-try for any cannabis enthusiast seeking a unique and balanced cannabis growing experience.
This stunning photogenic strain boasts a genetic makeup of 60% Indica and 40% Sativa, delivering a euphoric and energizing buzz that leans slightly towards the Indica side for a calming and uplifting high.
One of the standout features of Gelato seeds is its impressively high THC content, with the potential to reach up to 33% in optimal growing conditions. Even in less ideal circumstances, Gelato still packs a potent punch, producing a minimum of 18% THC. With a THC range of 22-26% for most growers, Gelato is an absolute powerhouse of a strain that's sure to impress even the most experienced cannabis connoisseurs.
If you're interested in experiencing Gelato's blissful and energizing effects for yourself, look no further than our premium selection of top-quality Gelato seeds in Canada. We offer only the finest seeds to ensure that you get the most out of your growing experience and can fully appreciate the unique flavor and effects of this popular strain.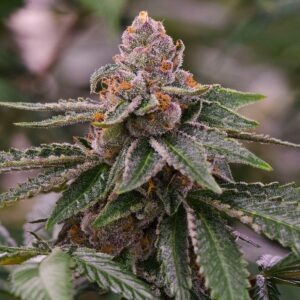 Gelato Marijuana Aroma and Flavor
With an especially prominent and pungent terpene profile, it's not easy to hide that there is cannabis nearby when in the vicinity of Gelato flowering. For this reason, growing these potent buds might be a deal breaker for some. However, trust me — it'll be well worth the endeavor.
Besides the pungent marijuana scent, this cannabis strain has hints of blueberry and orange. Flavor-wise, Gelato cannabis starts out with sweet and woody flavors, blended with hints of flowery lavender. The taste transforms into a blend of berries and citrus, on the exhale which is a surprise for your tastebuds.
| Terpene | Flavor/Smell Description | Percentage (in essential oil) |
| --- | --- | --- |
| Limonene | Citrusy, lemon-like | 20-26% |
| Caryophyllene | Spicy, peppery | 12-16% |
| Linalool | Floral, lavender-like | 10-12% |
| Humulene | Woody, earthy | 8-10% |
| Pinene | Piney, fresh | 4-8% |
| Myrcene | Earthy, musky | 3-6% |
| Terpinolene | Herbal, floral | 2-4% |
The Gelato strain is known for its sweet, dessert-like flavors with a hint of citrus and herbal notes. The terpene profile can vary depending on the specific genetics and growing conditions, but typically includes a combination of Limonene, Caryophyllene, Linalool, and Humulene. These terpenes work together to create the unique sensory experience associated with the Gelato strain.
Gelato Seeds Grow Info
Thanks to its Indica genetics, the Gelato cannabis strain only grows to medium height, meaning that it's suitable for those who wish to grow cannabis seeds indoors and simply don't have a ton of overhead space.
It's a photogenic strain and a pleasure to watch during the flowering process, as its buds are stunning – especially near harvest. Gelato, while not the simplest cannabis strain to grow, can be successfully cultivated either inside or outdoors by novice growers who research their growing techniques ahead of time.
Outside, you're better off sticking to a tropical climate in order to be successful with Gelato seeds. The ideal conditions for this strain are warm and sticky temperatures, but just before the flowering period, you need a lower humidity level.
Flowering lasts around 8- 9 weeks for Gelato cannabis seeds, and the individual yield can vary but it's above average.
Effects of the Gelato Strain
An especially hard-hitting strain to grow, those who are complete beginners should ease into growing the Gelato strain, as its maximum 33% THC content is no joke. Although Gelato weed is slightly Indica- dominant, it generally doesn't leave the consumer feeling sleepy or tired. Rather, the Gelato buzz creeps into the head, leaving a high that's generally cerebral and concentrated. The strain's effects include filling the user with creativity, happiness, and relaxation. Ideal for sharing with friends during social gatherings, and for a productive day when you need to have a lot of mental focus.