Description
Peanut Butter Breath Seeds | Feminized Photoperiod
What strains make peanut butter breath?
Just reading the name Peanut butter breath seeds will have your taste buds intrigued, but after a few tokes, you will likely be heading for snacks.  Bred from Do-Si-Dos and Mendobreath, the strain is an evenly balanced hybrid that delivers high THC and a wonderful flavor experience.
Potency can range a little with this strain, most growers report THC levels around 28% and as high as 35% in perfect growing conditions. Her buds are absolutely stunning with red-orange pistils and trichomes that are both purple and white. While Peanut Butter Breath doesn't taste overwhelmingly like actual peanut butter, she does exude a nutty and earthy aroma. She tastes similar, so if you love savoury cannabis, she's a great choice to grow.
| Peanut Butter Breath | |
| --- | --- |
| Heritage/Lineage | Do-Si-Dos x Mendo Breath |
| Indica/Sativa Ratio | Indica dominant (70/30) |
| THC Content | 28%+ |
| CBD Content | < 1% |
| CBG Content | < 1% |
| Flowering Type | Feminized Photoperiod |
| Flowering Time | 9 – 10 weeks |
| Expected Yield | Moderate to high |
| Taste | Nutty, earthy, buttery, diesel |
| Effects | Relaxing, euphoric, happy, uplifted |
| Terpenes | Myrcene, caryophyllene, pinene, limonene |
| May Relieve | Stress, anxiety, depression, pain, insomnia |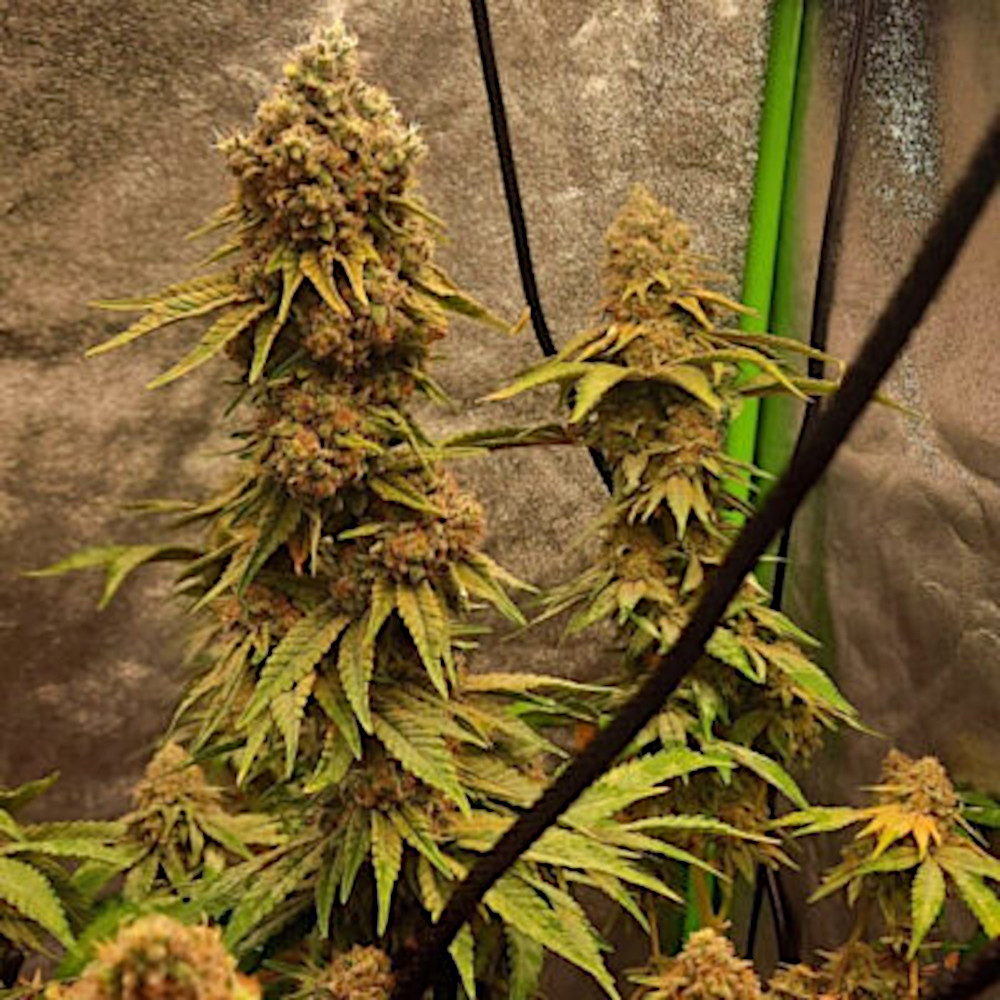 Strain Effects
What are the side effects of peanut butter breath?
Most users' smoking experience starts out with a cerebral lift and euphoria like nothing else, but that's not all the strain can offer. Peanut Butter Breath will melt away your stress in a matter of minutes.  Don't make a ton of plans just before rolling a joint of peanut butter breath.  While you won't end up super sedated from this strain, relaxation is at the forefront of the effects.  Plan for a night in to chill with your friends. Be sure to grab some snacks ahead of time as one of the main side effects of this strain is that it will give you the munchies.
What Terpenes are in Peanut Butter Breath
| Terpene | Flavor/Smell Description | Percentage (in essential oil) |
| --- | --- | --- |
| Caryophyllene | Spicy, peppery | 25-30% |
| Limonene | Citrusy, lemon-like | 15-20% |
| Pinene | Piney, fresh | 10-15% |
| Humulene | Woody, earthy | 5-8% |
| Myrcene | Earthy, musky | 1-3% |
| Linalool | Floral, lavender-like | 0.5-1.5% |
Satisfy your senses with Peanut Butter Breath, a hybrid strain that boasts a unique terpene profile including Limonene, Pinene and Caryophyllene. These terpenes combine to create a distinctive flavor profile that some describe as a luscious, chocolaty peanut butter aftertaste, while others detect notes of butter, earth, and wood, and even a hint of chestnut. Beyond its delectable flavor, Peanut Butter Breath delivers a balanced blend of cerebral and physical effects that make it a versatile choice for any time of day. Immerse yourself in the captivating aroma and complex flavor of this top-rated strain and discover why it has gained a devoted following in the cannabis community.
Medical benefits
If you're not looking to grow a plant for any sort of recreational use and instead need therapeutic relief, Peanut Butter Breath is a perfect choice. Being a near-balanced hybrid strain medicinal growers buy these seeds to grow medicine for their anxiety, depression, and PTSD.
Being high in THC the peanut butter breath strain is great for treating physical pain as well, making this lady one that you might turn to often.
Lastly, Peanut Butter Breath usually gives the users such an intense case of the munchies that any feelings of nausea fade.
Growing Peanut Butter Breath Seeds
Is peanut butter breath hard to grow?
Many growers would consider themselves lucky to grow Peanut Butter Breath seeds in their backyard. This strain is moderately easy to cultivate but well worth the effort. If you do decide to grow this strain outdoors then be sure you are in a warmer climate. Her flowering time can take up to 10 weeks. She prefers slightly higher nighttime temperatures and will thrive in hydroponics and soil.