Description
 Pink Kush Seeds
With its stunning pink and purple hues and irresistible aroma, Pink Kush is the go-to strain for anyone looking to unwind and relax after a long day.
And at Dagga Seeds, we bring you the best Pink Kush Seeds that Canada has to offer, ensuring a bountiful harvest of the most potent and flavorful buds. So why wait? Join us on a journey to explore the true essence of Canadian cannabis culture with our exceptional Pink Kush Seeds!
Cotton Candy/ Pink Kush Seeds

 Strain Genetics
Hybrid OG Kush
 Strain Dominant
Mostly Indica 90%
 THC Content
 20- 25%
 CBD Content
 0.21%
 Flowering Time
8 weeks
 Flowering Type
Photoperiod
 Yield
up to 700 gr/sqm
 Taste / Flavor
KUSH, CITRUS, VANILLA, PINEY, EARTHY, SWEET
 Effects
BODY HIGH/NUMBING, CALMING, CREATIVITY, EUPHORIA, HAPPY, RELAXATION, UPLIFTING
 May Relieve
ANXIETY, DEPRESSION, LACK OF APPETITE, STRESS
 Best to Grow
Indoor, Greenhouse, Outdoor
If you've been on the hunt for a strain that will help to ease your stress and unwind, Pink Kush seeds may just be your best seed purchase.  No one knows for sure what genetics are bred into the strain but most suspect it to be a phenotype of OG Kush. Like its suspected parent OG Kush, Pink Kush has a long-lasting high that lingers for hours. Users report it to be a pleasant and mellow buzz, without a harsh hit.
Pink Kush Seeds Genetics
Even though it is listed as an Indica Strain, its small amount of Sativa genetics does shine through. To go with its Indica sedative effects it gives the user an uplifting boost with a sense of euphoria mostly common to Sativa strains.
It is further enhanced by its most popular trait, its surprisingly sweet flavour.  With all of its great attributes, it's no surprise that it is one very versatile cannabis strain. Medical marijuana users favour this strain to soothe frayed nerves and ease them off to sleep. Some patients also use it for migraines, back pain and other body aches. Like most Indica strains, it has some traits that make it a perfect candidate for calming and soothing consumers of Pink Kush.
It also is known by some other names among the cannabis family such as:
1. Pink OG Seeds
2. Pink OG Kush Seeds
3. Pink Candy Seeds
4. Pink Cadillac Seeds
5. Cotton Candy Kush
While some love Pink Kush's flavour profile and body high, many feel it is a great strain to socialize in an intimate environment. It relaxes your barriers and allows for easier conversation, lowering anxiety, and social pressure.
Pink Kush Aroma
| Terpene | Flavor/Smell Description | Percentage |
| --- | --- | --- |
| Myrcene | Earthy, musky | 25-35% |
| Caryophyllene | Spicy, peppery | 10-20% |
| Pinene | Piney, fresh | 5-10% |
| Limonene | Citrusy, lemon-like | 1-2% |
| Linalool | Floral, lavender-like | 1-2% |
| Humulene | Woody, earthy | 1-2% |
Pink Kush has its own unique and distinctive smell that is sweet and Kushy.  It contains hints of vanilla, along with hints of wood and earth. Some other scents that users describe in reviews of pink kush are piney, flowers, sour, fruity and even minty.
Pink Kush Flavour
Although Pink Kush has a strong sweet Kushy kind of aroma, it has a flavour that is even more impressive. One of my personal favourites, for the incredibly unique flavour that resembles almost no other strain. It has notes of cotton candied sweet vanilla on the inhale, followed by a floral bouquet. The palette is also treated to notes of citrus and piney menthol on exhale with a woody and earthy aftertaste.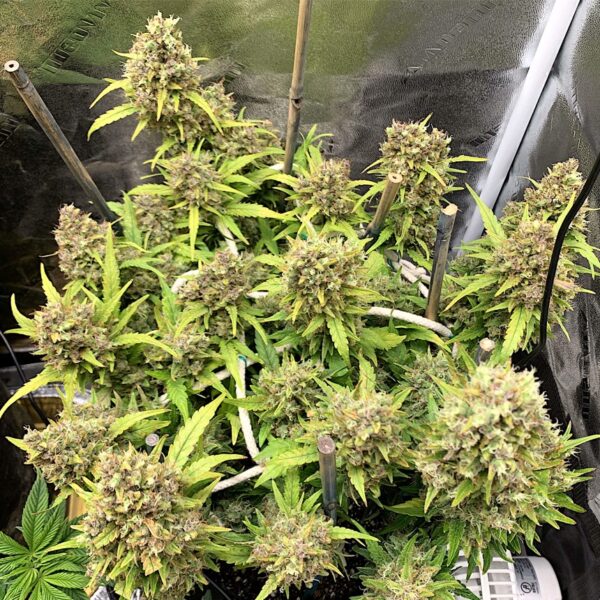 Pink Kush Appearance
Pink Kush has an appearance that is quite photogenic with an array of vibrant pinks, yellows, and greens. It is also a great strain for making concentrates with its sticky coating of resin.  Those of us who have grown the strain can attest to its thick frosty layer of trichomes.
Pink Kush Seeds Strain Grow Info
Pink Kush seeds bred in Canada are hardy and can withstand a less-than-perfect growing environment. It is resilient to most moulds, and pests. However, it's not invincible and home growers should watch out for light mould in extremely humid growing conditions.
Pink Kush in its natural environment prefers warm and dry climatic conditions.  This like most Indica strains grows on the shorter side but it does need a plant support stake in its early seedling stages of growth. This early seedling support will discourage drooping. Topping is recommended for this strain to increase yields and encourage lateral growth.  It can grow quite successfully outdoors and inside your grow tent.  The harvest for indoor growth is about 700g  per square meter. Outdoor growing may yield 700g per plant or more.
Pink Kush seeds are in the easy category when it comes to growing the strain. It is quite hungry and has a high demand for nutrients. Watch your pH also, don't go over 6.5 for your combined water and nutrient solution during feeding.
Growers can also grow pink kush in a hydroponics setup. It loves constant access to nutrients and this can also help to reduce its flowering time. Those looking to maximize their yields should employ low-stress training and pruning. With its shorter stature and closer branching make sure it has tons of air circulation over its thick broad leaves.
Medical Benefits of the Pink Kush Strain
Pink Kush growers cite this strain's aroma and beautiful appearance among its most favourable traits. Those who use it medically however rave about its ability to relax the body and mind. It has been a hit for medical cannabis growers affected by PTSD, anxiety, and panic disorders. Many growers also state that Pink Kush's body buzz helps relieve their deep body pain. Migraine sufferers utilize it as a natural remedy. Those suffering from spasmatic pain say it helps with taking the edge off their symptoms without having to turn to pills.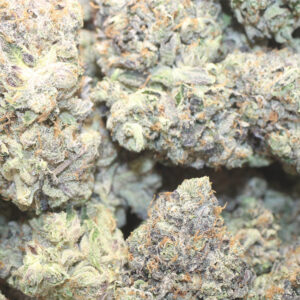 Final Thoughts on the Pink Kush Strain
While Pink Kush has high levels of THC, it is also a great way to wind down and unload the stress of the day.  Its ability to calm the user and soothe body aches are among its best medical marijuana traits. Its genetic parentage may not be known entirely but its Kushy Indica side is quite prevalent and enhanced by the strain's unique flavour profile. It grows short with a thick stem, but it loves to be trimmed and trained. Lots of air circulation will optimize growth indoors. Get ready to experience the ultimate cannabis high with Dagga Seeds' Pink Kush Seeds – the pride of Canada!