Description
PURPLE URKLE SEEDS | STRAIN OVERVIEW
Purple Urkle seeds from Canada will produce a plant with a delicious earthy and grape soda flavour. It's a wonderful strain for those looking away from the typical cannabis aroma.  Besides its amazing scent and being delicious, it also is grown for its relaxing and euphoric high.
Purple Urkle Seeds | Feminized Photoperiod

 Strain Genetics
Mendocino Purps
 Strain Dominant
Mostly Indica
 THC Content
27%
 CBD Content
<1%
 Flowering Time
8 to 9 weeks
 Flowering Type
Photoperiod
 Yield
up to 450g/m²
 Taste / Flavor
Berry, Earthy, Herbal, Pepper, Pine
 Effects
Euphoric, Powerful, Relaxing, Sedative
 May Relieve
Anxiety, Depression, Insomnia, Pain, Stress
 Best to Grow
 Indoor | Outdoor | Greenhouse
The name Urkle comes from an awkward character in a very popular '90s sitcom. He was the most popular character on the show Family matters and was known for his many accidents and mishaps. You may remember his coin phrase "Did I do That?"  Although the Purple Urkle strain bears his name, there is no mishap with this wonderful cannabis plant.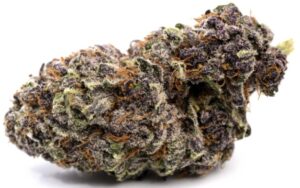 What is the Purple Urkle Strain?
Get your hands on Purple Urkle seeds in Canada, a nearly balanced hybrid strain with roots tracing back to Mendocino Purps.
Discover the unique genetics and potent effects of this popular cannabis variety.
This legendary strain gets its origins from the legendary Emerald Triangle region of northern California. The strain first appeared in the '80s on the West Coast and grew tremendously in popularity once medicinal marijuana was legalized in the  mid-1990s.
According to Michael Backes, Author – of Cannabis Pharmacy, SMA – Maui Grown Therapies, the strain was first introduced by breeders at the Cannabis Buyers' Club of West Hollywood. Its purple lineage, a result of its genetics which includes Granddaddy Purple and Grape Ape, made it a favourite for flavour, bag appeal and of course its sky-high THC levels.
| Terpene | Flavor/Smell Description | Percentage |
| --- | --- | --- |
| Myrcene | Earthy, musky | 20-30% |
| Pinene | Piney, fresh | 10-15% |
| Caryophyllene | Spicy, peppery | 5-10% |
| Linalool | Floral, lavender-like | 1-2% |
| Humulene | Woody, earthy | 0.5-1.5% |
| Terpinolene | Herbal, floral | 0.5-1.5% |
Aroma
Stick your nose in a bag of Purple Urkle weed and you will want to start growing your own. The grape soda scent and earthy-grape sweetness are quite delectable.
Flavour
As mentioned above, it's quite similar to the taste of grape soda according to most consumers of the strain.  There is no doubt a strong presence of the grape flavour, with slight hits of berries. It is cannabis and will have some skunkiness to it as do all strains in some way. It will be sugary on the palate with an earthy after-taste.
Appearance
As you have already seen from the pictures, the strain has velvet purple buds with hints of green poking through. The greens help to contrast the abundant coating of glistening trichomes and orange pistils.  Its bag appeal is among the best out there with tight dense cone-shaped buds.
How to grow Purple Urkle Strain
Purple Urkle seeds rate about medium when it comes to the difficulty of growing. If you are a new cannabis grower, you may want to seek out assistance from someone who has already grown the strain.  You will have to pay particular attention to the number of nutrients Purple Urkle consumes as it is a high-yielding strain both indoors and outside. If you are a long-time grower who is growing this for the first time, you may need to expand your nutrient lineup. It is best suited for indoor grow rooms and has been known to exceed outdoor yields in a controlled environment.
You may be limited with growing this strain outdoors as it requires warm temperatures up until mid-October. Your outdoor yields will be around 10 -16 ounces per plant.
When growing Purple Urkle seeds indoors, they will typically flower in 8-9 weeks and yield 18 ounces of bud per square meter of growing space. Aside from providing Purple Urkle with a lot of fertilizer, you need to keep your grow room temperature in check and provide lots of ventilation. If you don't have a carbon filter your neighbours may smell this strain in full bloom.
THC Content – Up to 27%
Purple Urkle is listed as a High THC Strain and with the right growing conditions can reach levels as high as 27%.
CBD Content – Less than 1%
There is almost no CBD in this cannabis strain. It has been tested at levels of less than 0.1% CBD in certified labs. As a ratio, this strain has a THC to CBD-ratio of nearly 200:1.
What Can I Expect When I Use Purple Urkle Weed?
As an almost perfectly balanced hybrid, Purple Urkle delivers to its users a wide array of recreational and medicinal effects. It does however lean slightly toward the Indica side of effects giving the user a relaxing body high.  Once you partake of this strain you may feel a new love for the couch.
This strain will definitely give you a dry mouth, so keep your favourite beverages on hand while smoking. Soon after the first inhale you will be treated with a sense of relaxation starting in the eyes and working down. If you are already exhausted then you may just fall asleep instantly so keep this for an evening high.
Experienced smokers report a feeling of euphoria accompanying the desire to lie on the couch and listen to music or watch videos. The cerebral part of the buzz is invigorating yet won't give you any energy.
Medical Benefits of Purple Urkle Marijuana
Purple Urkle seeds are quite popular to buy with medical cannabis growers. Being a hybrid strain it has the potential to relieve a wide spectrum of ailments treatable by medicinal marijuana. One such treatment is utilized with insomniacs, the ability to act as an effective sleep aid.
Purple Urkle will relax and calm your mind along with your muscles. It is often recommended for patients with anxiety, depression or stress. It can help with a racing mind and drive negative thoughts away.  Physically, Purple Urkles sedative effects are prescribed to patients managing pain and conditions such as fibromyalgia. Consider growing this strain to treat your joint pains, headaches, muscle spasms or stress.
Final Thoughts on Purple Urkle Seeds
Purple Urkle seeds will deliver a potent weed plant and is very popular on the social scene. Its grape soda flavour will have your friends begging for a taste. The bag appeal will only come second to its potency, coming in at around 27% so buckle up for the ride of a lifetime when smoking this strain. It is one of the most beautiful marijuana plants to grow, and it checks all the boxes of yield and potency.