Botrytis Cannabis | How to Stop and Prevent Bud Rot
In the ever-expanding world of cannabis cultivation, a menace lurks, striking fear into the hearts of growers: Botrytis Cannabis, commonly known as Bud Rot. This insidious fungus, also called gray mold, can swiftly decimate cannabis crops, posing a substantial threat to both indoor and outdoor cultivation. Understanding its origins, identifying early signs, and implementing effective preventive measures are paramount for growers seeking a thriving harvest.
In this comprehensive guide, we delve deep into the realms of Botrytis Cannabis, exploring its nuances, causes, prevention strategies, and the crucial steps to take if your plants fall victim to this formidable adversary. Arm yourself with knowledge, for in the battle against Bud Rot, awareness is the grower's most potent weapon. Let us navigate the intricate maze of cannabis cultivation, steering clear of the ominous shadow cast by Botrytis Cannabis.
1.1 What is Bud Rot?
1.2 What Does Bud Rot Look Like?
2.1 High-Risk Conditions
2.2 Vulnerable Cannabis Strains
3.1 How Fast Does Bud Rot Spread?
3.2 Contagious Nature of Bud Rot
4.1 How to Prevent Bud Rot Indoors
4.2 How to Prevent Bud Rot Outdoors
4.3 Techniques for Early Detection
5.1 How to Stop Bud Rot Indoors
5.2 How to Stop Bud Rot Outdoors
6.1 What to Do if You Get Bud Rot After Harvest?
7.1 Dangers of Smoking Bud Rot
8. Conclusion
8.1 Importance of Vigilance
8.2 Responsible Cultivation Practices
1. Understanding Bud Rot
1.1 What is Bud Rot?
Bud Rot, scientifically known as Botrytis Cannabis, is a formidable fungal pathogen that poses a significant threat to cannabis plants, both indoors and outdoors. Also referred to as gray mold, it thrives in humid conditions, infiltrating the densest cannabis buds with remarkable stealth. This fungal menace initiates its attack by infecting the inner core of the buds, making early detection challenging.
Key Characteristics of Bud Rot:
Fungal Origin: Bud Rot is caused by the Botrytis cinerea fungus, known for its ability to colonize plant tissues rapidly.
Moisture-Seeking: Botrytis Cannabis thrives in damp environments. High humidity levels, rain, or inadequate ventilation create ideal conditions for its proliferation.
Invisible Invasion: Initial stages of Bud Rot often remain hidden, lurking within the buds. As it advances, the fungus breaks down surrounding tissues, leading to visible symptoms.
Rapid Spread: Once established, Bud Rot spreads swiftly, turning affected buds into a breeding ground for spores, endangering neighboring plants.
Understanding the nature of this adversary is paramount. In the upcoming sections, we'll explore the visual cues and stages of Bud Rot, empowering growers with the knowledge needed to recognize, prevent, and combat this relentless threat to cannabis cultivation.
1.2 What Does Bud Rot Look Like?
Bud Rot, the sinister nemesis of cannabis cultivation, manifests in several distinctive stages, each marked by specific symptoms. Recognizing these signs early is paramount to saving your crop. Here's a detailed breakdown of what Bud Rot looks like:
Early Stage:
Mushy Grayish Stems: The initial attack leaves stems with a soggy, grayish appearance.
Yellow, Wilted Leaves: Leaves affected by Bud Rot turn yellow, wilt, and eventually burn.
Fluffy White Fungus: White fluffy fungus appears delicately on certain areas of the buds, resembling a dusty web.
Brown, Dry, or Curled Leaves: Leaves near the infected area become deformed, dry out, or curl due to the advancing rot.
Intermediate Stage:
Greyish-Brown Calyces: The calyx, or base of the bud, takes on a greyish-brown hue.
Darkened, Purple Leaves: Buds' outer leaves darken and may develop a purple tint.
Small Black Spots: Tiny black spots emerge, indicating the release of spores.
Advanced Stage:
Rotten Brown Buds: Buds deteriorate, turning rotten, brown, and extremely fragile.
Internal Dust and Speckles: Upon inspection, buds reveal dark speckles within a dusty substance.
Mold Spores: Visible mold spores cover both plants and buds, indicating an irreversible, severe infestation.
Distinctive Traits:
Moldy Odor: A distinct rotting mildew smell permeates the affected area, signaling Bud Rot's presence.
Dusty Gray Webbing: A dusty gray webbing with white spores appears, indicating the advanced stages of infestation.
Action Steps:
Immediate Removal: Swiftly remove all infected buds and areas to prevent further contamination.
Environmental Correction: Indoors, correct the environment and sterilize the area. Outdoors, create adequate spacing and improve ventilation.
Vigilance is Key: Regular, meticulous inspection is your best defense. Look for any signs in the buds' crevices and core.
Understanding these progressive stages equips growers to identify infected flowers promptly. In the following sections, we'll explore prevention strategies, remedial actions, and the crucial steps to salvage your harvest from this relentless adversary. Stay vigilant; your crop's health depends on it.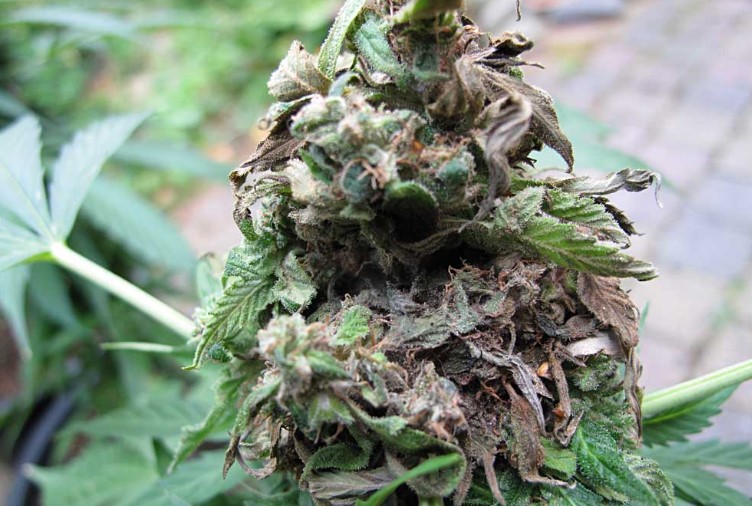 2. Root Causes of Bud Rot
2.1 High-Risk Conditions
Bud Rot, the insidious infiltrator of cannabis crops, thrives under specific conditions, making preemptive action crucial for growers. Understanding these high-risk conditions is pivotal:
High Humidity Levels: Bud Rot revels in moisture-laden environments. High humidity, especially in enclosed spaces, provides an ideal breeding ground.
Inadequate HVAC Systems: Poor ventilation and climate control in indoor grow rooms create stagnant air, encouraging mold growth.
Mild Temperatures: Moderate, mild temperatures provide the perfect backdrop for Bud Rot to flourish, especially during the flowering stage.
Dense Plant Growth: Crowded, dense plant formations restrict air circulation, trapping moisture and exacerbating the risk.
Large Buds: Cannabis plants with substantial, densely packed buds are particularly vulnerable. Their intricate structures offer ample hiding spaces for the mold to infiltrate.
Bud Rot's affinity for these conditions makes it imperative for growers to meticulously manage their cultivation environment. In the subsequent sections, we'll delve into strategies for prevention, proactive measures, and the art of maintaining an environment hostile to Bud Rot's proliferation. Stay tuned, as safeguarding your harvest begins with understanding these root causes.
2.2 Vulnerable Cannabis Strains
Not all cannabis strains are created equal in the face of Bud Rot. Certain varieties exhibit greater susceptibility to this fungal menace, adding an extra layer of complexity for growers. Understanding the vulnerabilities of specific cannabis strains is paramount for effective cultivation. Here's what you need to know:
Weaker Immune Systems: Some cannabis strains possess weaker natural defenses against pathogens like Botrytis Cannabis. These strains are inherently more vulnerable to Bud Rot and demand heightened vigilance from growers.
Genetic Predisposition: Certain genetic traits can predispose cannabis strains to mold susceptibility. If a strain has a history of Bud Rot occurrences, it's crucial to implement rigorous preventive measures to safeguard the crop.
Hybrids with Dense Buds: Hybrids that feature dense, compact buds are often at higher risk. These tightly packed structures create an ideal environment for mold growth, demanding meticulous attention to prevent infiltration.
Indica Dominant Strains: Indica-dominant strains, renowned for their resinous and dense buds, are commonly targeted by Bud Rot. Their genetic characteristics make them alluring to growers but demand stringent environmental control.
Identifying strains prone to Bud Rot allows growers to tailor their cultivation strategies. In the upcoming sections, we'll explore specialized care techniques, environmental adjustments, and the art of selecting resistant strains. Stay tuned as we delve deeper into the nuances of safeguarding vulnerable cannabis varieties from the clutches of Bud Rot.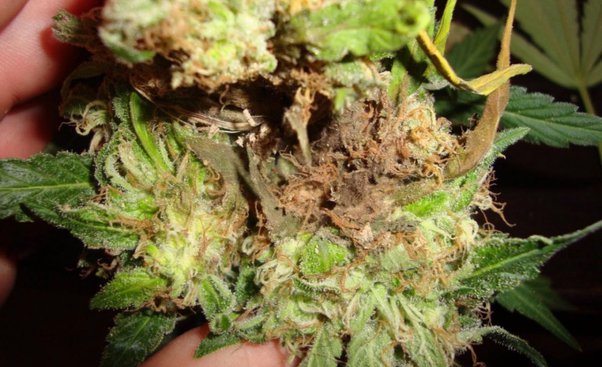 3. The Rapid Spread of Bud Rot
3.1 How Fast Does Bud Rot Spread?
Bud Rot, notorious for its speed, can swiftly engulf an entire cannabis crop if left unchecked. Understanding the rapidity of its spread is pivotal for growers. Here's a glimpse into the alarming pace at which Bud Rot can overtake your plants:
Explosive Contagion: Bud Rot spreads like wildfire. Both indoor and outdoor crops can be entirely infected within a mere few days if the conditions are favorable for its growth.
Airborne Spores: Bud Rot generates vast quantities of spores that disperse easily. These airborne invaders can swiftly infiltrate neighboring plants, leading to a domino effect of infestation.
Relentless Progression: Once Botrytis gains a foothold, it progresses exponentially. What starts as a small, seemingly isolated instance can quickly escalate into a full-blown crisis if not promptly addressed.
Overnight Devastation: In the right conditions, Bud Rot can cause significant damage overnight. The mold thrives in darkness, making nighttime a critical period for growers to remain vigilant.
Immediate Action Required: Given its rapid spread, immediate action is imperative upon detecting any signs. Timely interventions, rigorous hygiene practices, and strategic preventive measures are the keys to halting its progression.
Understanding the alarming pace at which Bud Rot operates underscores the urgency of proactive measures. In the subsequent sections, we'll delve into effective strategies for stopping its advance, preventing recurrence, and safeguarding your cannabis harvest. Stay tuned as we equip you with the knowledge to combat this relentless adversary.
3.2 Contagious Nature of Bud Rot
Botrytis and its contagious nature is a nightmare for cannabis growers, as it spreads relentlessly, endangering entire crops in its wake. Understanding how it transmits and infiltrates is crucial to combatting its advance:
Spore Dispersal: Bud Rot produces vast quantities of spores. These lightweight, airborne particles can travel significant distances, making neighboring plants highly susceptible. Wind, water, insects, and even human contact can carry these spores, facilitating rapid transmission.
Invisible Invaders: Bud Rot spores are often invisible to the naked eye, making detection challenging until visible symptoms manifest. By the time these symptoms become apparent, the mold has often spread extensively.
Neighborhood Threat: In outdoor settings, neighboring plants, whether cannabis or other crops, are at risk. Containment becomes especially challenging when environmental conditions are conducive to spore dispersal.
Highly Adaptive: Bud Rot exhibits adaptability, thriving in various environments. High humidity, coupled with mild temperatures, provides an ideal breeding ground. Even in indoor grow rooms, if ventilation and humidity levels are not meticulously controlled, Bud Rot can infiltrate with ease.
Cross-Contamination Risks: Clothing, tools, and even hands that come into contact with an infected plant can unknowingly spread spores to healthy plants. Rigorous hygiene practices are essential to prevent cross-contamination.
Recognizing Bud Rot's contagious nature emphasizes the importance of stringent preventive measures. In the upcoming sections, we will explore proactive strategies to contain its spread, protect adjacent plants, and fortify your cultivation environment against this insidious invader. Stay vigilant, for knowledge and swift action are your best allies against Bud Rot's contagious onslaught.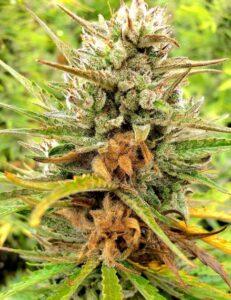 4. Prevention and Early Detection
4.1 How to Prevent Bud Rot Indoors
Indoor cultivation offers growers greater control over environmental variables, yet Bud Rot remains a persistent threat. Implementing proactive prevention strategies is paramount. Here's how to safeguard your indoor cannabis plants from the clutches of Bud Rot:
Optimal Ventilation: Ensure adequate ventilation within your grow room. Stagnant air provides a breeding ground for mold. Invest in oscillating fans to maintain consistent airflow, preventing moisture buildup and stifling mold growth.
Humidity Control: Maintain optimal humidity levels between 45% and 55%. High humidity fuels Bud Rot. Utilize dehumidifiers to extract excess moisture from the air, creating an inhospitable environment for mold spores.
Temperature Management: Maintain a steady temperature between 65°F and 75°F (18°C to 24°C). Fluctuations, especially during the flowering stage, can encourage Bud Rot. Utilize heaters or air conditioners as needed to sustain the ideal temperature range.
Prudent Watering: Overwatering creates excess moisture, inviting mold. Adopt a strict watering schedule, allowing the soil to dry slightly between watering sessions. Ensure pots have proper drainage to prevent water accumulation.
Regular Inspections: Conduct daily inspections, especially during flowering when plants are most vulnerable. Thoroughly examine buds, leaves, and stems for any signs of discoloration, wilting, or fungal growth. Swift removal of affected areas can halt the spread.
Sanitation Protocols: Maintain impeccable cleanliness. Sterilize tools, containers, and surfaces regularly to prevent cross-contamination. Quarantine newly acquired plants before introducing them to the grow room, minimizing the risk of external mold sources.
Pruning and Training: Proper pruning and training techniques enhance airflow and light penetration. Removing excess foliage and shaping the plants not only boosts overall health but also minimizes the potential hiding spots for mold.
Beneficial Microorganisms: Introduce beneficial microbes to the soil. These microbes create a symbiotic relationship with the plants, enhancing their natural defenses against pathogens, including Bud Rot.
By meticulously adhering to these indoor-specific preventive measures, growers can create an inhospitable environment for Bud Rot, ensuring their cannabis crops thrive in a healthy, mold-free atmosphere. Stay vigilant, for proactive care is the key to a successful indoor cultivation journey.
4.2 How to Prevent Bud Rot Outdoors
Outdoor cannabis cultivation provides unique challenges due to uncontrollable environmental factors. However, with strategic planning and vigilance, it's possible to minimize the risks of Bud Rot and protect your precious plants from its devastating effects:
Strategic Plant Spacing: Adequate spacing between plants is crucial. Proper air circulation is your first line of defense against Bud Rot outdoors. Avoid overcrowding, as it hampers airflow, creating pockets of stagnant, humid air where mold thrives.
Select Resilient Strains: Choose cannabis strains known for their resilience against mold, especially if you are in a region prone to high humidity or frequent rains. Some strains have natural defenses that make them less susceptible to Bud Rot.
Timely Harvesting: Harvesting your cannabis plants at the right moment is pivotal. Avoid harvesting during or immediately after heavy rains or in high humidity conditions. Wait for a dry spell, ensuring the buds have a chance to dry properly before harvest.
Protective Structures: Consider employing temporary protective structures like hoop houses or tarps. These can shield your plants during unexpected rainstorms. While not foolproof, they offer an extra layer of defense against excess moisture.
Morning Dew Management: Bud Rot often capitalizes on morning dew. Use a leaf blower or gently shake the plants early in the day to remove excess dew. This practice helps prevent prolonged wetness, which is conducive to mold growth.
Regular Inspection: Thoroughly inspect your outdoor plants daily, paying close attention to the buds, leaves, and stems. Rapid intervention, such as removing affected parts immediately, can prevent the spread of Bud Rot to other areas.
Natural Predators: Introduce beneficial insects like ladybugs or predatory mites that feed on harmful pests. By controlling pest populations, you indirectly reduce the stress on your plants, making them less susceptible to diseases like Bud Rot.
Prudent Watering Practices: Water your plants in the early morning, allowing excess moisture to evaporate during the day. Avoid overhead watering, which wets the foliage and can create a breeding ground for mold.
By combining these outdoor-specific preventive measures, growers can significantly decrease the risk of Bud Rot impacting their outdoor cannabis crops. Diligence, adaptability, and a deep understanding of your local climate are your allies in the battle against this relentless adversary. Stay observant, act promptly, and your outdoor cultivation efforts can flourish, untouched by the menace of Bud Rot.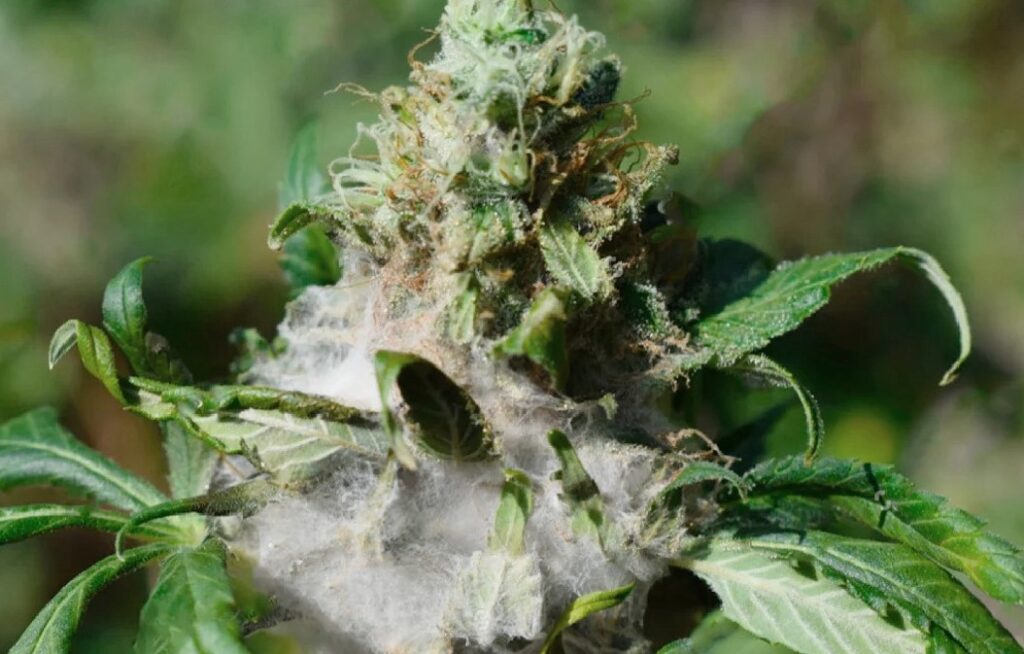 5. Halting the Progression of Bud Rot
5.1 How to Stop Bud Rot Indoors
Halting Bud Rot indoors demands swift action and meticulous attention to detail. If you've detected the initial signs, these steps can salvage your indoor cannabis crop and prevent further spread:
Immediate Isolation: Isolate the affected plant immediately to prevent the spread of spores. Place it in a separate, well-ventilated space, away from healthy plants.
Precision Pruning: With sanitized scissors, carefully remove all visibly infected parts, including buds, leaves, and stems. Dispose of the infected material in a sealed bag to prevent spore release.
Enhanced Ventilation: Increase ventilation within your grow room. Utilize oscillating fans to maintain constant airflow, ensuring that the remaining plants are not in stagnant air, which encourages mold growth.
Temperature and Humidity Control: Maintain the optimal temperature and humidity levels in your grow room. Aim for a temperature range between 65°F and 75°F (18°C to 24°C) and humidity levels between 45% and 55%. Consistent conditions discourage further mold development.
Anti-Fungal Treatment: Apply an effective anti-fungal solution like Trifecta Crop Control. Follow the recommended dosage and application guidelines to eliminate mold spores and prevent future infestations.
Protective Clothing: When handling infected plants, wear protective clothing, including gloves, a mask, and a disposable suit. This prevents spores from sticking to your clothes and reduces the risk of contaminating other plants.
Thorough Cleaning: Sterilize all equipment, surfaces, and containers in your grow room with a bleach or hydrogen peroxide solution. This eliminates any remaining spores, preventing a recurrence of Bud Rot.
Regular Monitoring: Monitor your plants closely for any signs of resurgence. Regular inspections can catch new infections early, allowing you to take immediate action.
By promptly implementing these measures, indoor growers can effectively stop Bud Rot in its tracks and safeguard their remaining cannabis plants. Attention to detail, timely intervention, and a proactive approach are your best allies in preserving your indoor harvest.
5.2 How to Stop Bud Rot Outdoors
Stopping the Rot that has already infiltrated your outdoor cannabis crop demands immediate and decisive action. Once detected, follow these steps to prevent further spread and salvage your remaining plants:
Isolate Infected Plants: Identify and isolate all plants showing signs of infection. Create distance between infected and healthy plants to prevent spore transmission. This containment is crucial to stop the mold from spreading.
Precision Pruning: With sanitized tools, carefully remove all affected parts. This includes buds, leaves, and stems showing signs of mold. Dispose of these materials in a sealed bag, ensuring spores do not contaminate other plants.
Increase Ventilation: Enhance airflow around the remaining plants. Trim nearby foliage (if healthy) to create better ventilation. Use fans strategically to maintain continuous air circulation, drying out excess moisture and hindering mold growth.
Apply Fungicides: Utilize potent anti-fungal treatments specifically designed for outdoor crops. Apply the fungicide according to the manufacturer's instructions. These treatments are formulated to halt mold growth and provide a protective barrier against further infection.
Natural Anti-Fungal Solutions: Consider natural remedies like copper-based fungicides or potassium bicarbonate. These substances, when used diligently and at the right concentrations, can suppress the mold's progression without harmful chemical residues.
Prudent Watering: Adjust your watering practices to prevent excess moisture. Water in the morning, allowing plants to dry during the day, minimizing the period of wetness. Avoid overhead watering to prevent water from collecting in bud crevices.
Humidity Management: Monitor local weather forecasts. If a period of high humidity is expected, consider constructing temporary shelters over your plants. These structures shield the plants from moisture, reducing the risk of mold development.
Regular Inspection: Conduct frequent inspections, especially after rain or heavy dew. Look for any resurgence of Bud Rot. Swiftly remove any newly infected parts to prevent further escalation. Daily monitoring is key to staying ahead of the mold's spread.
Beneficial Microbes: Introduce beneficial microorganisms to the soil. Certain beneficial bacteria and fungi can suppress harmful pathogens, creating an environment less conducive to mold growth.
Post-Harvest Sanitization: After harvest, sanitize your gardening tools, containers, and equipment meticulously. Clean your cultivation area thoroughly. Disinfect the entire space to eliminate any remaining spores and prevent future outbreaks.
By implementing these aggressive measures, outdoor growers can halt Bud Rot in its tracks. Swift, targeted actions combined with consistent vigilance can salvage a significant portion of your crop and minimize losses. Remember, early intervention and thorough follow-through are essential in effectively stopping Bud Rot outdoors.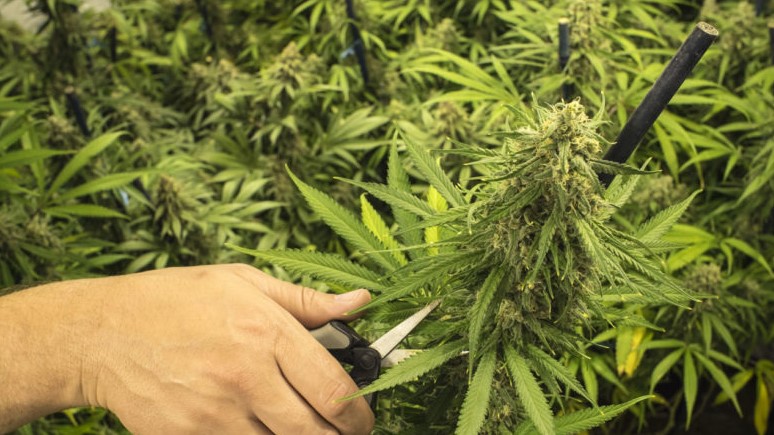 6. Post-Harvest Strategies
6.1 What to Do if You Get Bud Rot After Harvest?
Discovering Bud Rot post-harvest is disheartening, but all hope is not lost. Here's a step-by-step guide on what to do if you find Bud Rot after harvesting your cannabis plants:
Immediate Isolation: Isolate the affected buds immediately. Place them in sealed bags to prevent the spores from spreading. Keep these bags away from your other harvested cannabis to avoid contamination.
Inspect Thoroughly: Check all remaining buds meticulously. Look for any signs of mold or mildew. Bud Rot can spread quickly, so a thorough inspection is crucial to identifying and isolating affected areas promptly.
Trimming and Salvaging: Carefully trim away the moldy parts of the buds, ensuring you remove all affected areas. Dispose of these trimmings securely. Salvage what's left of the buds if they appear unaffected. Properly dried and cured cannabis might still be salvageable if the mold has not penetrated deep.
Drying Environment: Opt for a controlled drying environment. Maintain a dark, cool room with a temperature around 60 degrees Fahrenheit and humidity levels below 60%. Adequate airflow is essential. Use fans to promote air circulation, expediting the drying process.
Humidity Control: Utilize dehumidifiers to keep the drying space dry. Controlling humidity prevents the mold from thriving in a moist environment. Monitor the humidity levels regularly to ensure they stay within the desired range.
Regular Inspection: Continue to inspect the drying buds daily. Even a small resurgence of mold can ruin the entire batch. Remove any moldy buds immediately to prevent further contamination.
Quality Over Quantity: Prioritize quality over quantity. If Bud Rot has significantly affected your harvest, focus on salvaging high-quality, unaffected buds. These can still provide a satisfying cannabis experience.
Final Cure: Once the buds are sufficiently dried, proceed with the curing process. Use airtight containers, ensuring they are thoroughly sterilized. Regularly check the buds during curing. If you notice any signs of mold, remove the affected parts promptly.
Testing: Consider sending a sample of your harvested cannabis for testing. Professional testing labs can assess the safety and quality of your product. This step ensures your cannabis is free from harmful contaminants before consumption.
Prevention Moving Forward: Learn from the experience. Identify the root causes of Bud Rot in your setup. Evaluate factors such as humidity levels, ventilation, and plant spacing. Implement preventive measures in your future grows to minimize the risk of Bud Rot.
While discovering Bud Rot after harvest is undoubtedly challenging, proactive measures and meticulous care can salvage a portion of your crop. Stay vigilant, act swiftly, and prioritize the well-being of your consumers by ensuring the safety and quality of your cannabis products.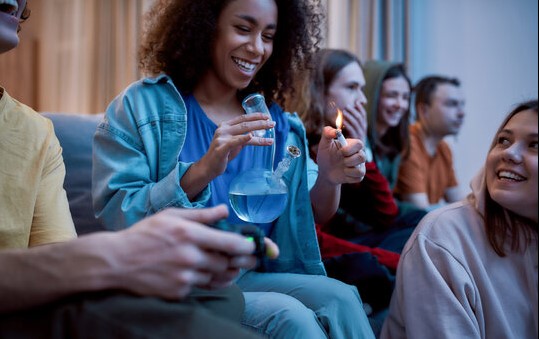 7. Health Risks and Consequences
7.1 Dangers of Smoking Moldy Buds
Smoking cannabis affected by Botrytis poses severe health risks. Bud Rot, caused by the Botrytis fungus, introduces harmful elements that can seriously impact your well-being. Here are the dangers associated with smoking Bud Rot-infected cannabis:
Toxic Mold Inhalation: Bud Rot introduces mold spores into the plant material. Inhaling these spores can lead to respiratory issues, allergic reactions, and lung infections. Individuals with compromised immune systems are particularly vulnerable to severe complications.
Allergic Reactions: Mold spores can trigger allergic reactions in sensitive individuals. Symptoms may include sneezing, coughing, itchy eyes, and throat irritation. Prolonged exposure can exacerbate these reactions, leading to chronic discomfort.
Pulmonary Issues: Inhaling mold spores can cause pulmonary problems, especially in individuals with pre-existing respiratory conditions such as asthma or bronchitis. Chronic exposure may worsen these conditions and lead to difficulty in breathing, wheezing, and chest tightness.
Mycotoxin Ingestion: The Botrytis fungus produces mycotoxins, harmful substances that can cause poisoning when ingested. Ingesting mycotoxins from contaminated cannabis can lead to digestive disturbances, nausea, vomiting, and, in severe cases, liver damage.
Compromised Immune Function: Individuals with weakened immune systems, such as those undergoing chemotherapy or living with HIV/AIDS, are at a higher risk. Inhaling mold spores weakens the immune system further, making the body more susceptible to various infections.
Fungal Infections: Smoking Bud Rot-contaminated cannabis can introduce fungal infections into the respiratory system. As the mold spores settle in the lungs, they create an environment conducive to fungal growth. This can lead to persistent infections and chronic health issues.
Long-term Health Impacts: Prolonged exposure to mold spores, even in low quantities, can result in long-term health problems. Chronic respiratory issues, immunodeficiency disorders, and increased vulnerability to infections are among the potential consequences.
Legal and Ethical Implications: Distributing or selling cannabis contaminated with Bud Rot is illegal in many jurisdictions. Consuming or providing contaminated cannabis may lead to legal consequences, posing risks beyond health concerns.
In summary, smoking Bud Rot-infected cannabis jeopardizes your health and well-being. To safeguard yourself and others, always ensure that the cannabis products you consume are free from contamination. Understanding the risks associated with Bud Rot emphasizes the importance of responsible cultivation, thorough inspection, and rigorous quality control measures in the cannabis industry.
8. Conclusion
8.1 Importance of Vigilance
In the world of cannabis cultivation, vigilance is paramount. Bud Rot, or Botrytis, is a relentless adversary, ready to strike at any moment. Growers must remain vigilant, conducting regular inspections and monitoring environmental conditions. Early detection is the key to saving your precious crops. The consequences of overlooking even subtle signs of Bud Rot can be devastating, potentially leading to the loss of an entire harvest. By staying alert and proactive, growers can mitigate the risks associated with this pervasive threat.
8.2 Responsible Cultivation Practices
Responsible cultivation practices are the foundation of a healthy and sustainable cannabis industry. Cultivators play a crucial role in ensuring the safety and well-being of consumers. Implementing stringent hygiene protocols, maintaining optimal environmental conditions, and employing preventive measures are essential. From controlled indoor environments to outdoor fields, growers must adhere to best practices that minimize the risk of Bud Rot. Proper ventilation, strategic plant spacing, and regular cleaning are not just tasks; they are obligations toward producing safe, high-quality cannabis.
Moreover, embracing innovative solutions, such as the use of Trifecta Crop Control, can significantly enhance the ability to prevent and combat Bud Rot. This advanced product, designed with nanotechnology, targets mold and mildew at the cellular level. Its application, coupled with meticulous cultivation methods, creates a robust defense against Botrytis.
As the cannabis industry continues to thrive, responsible cultivation practices must be at its core. By prioritizing the health of plants and the safety of consumers, growers can uphold the integrity of their crops and contribute to a flourishing and trustworthy cannabis market. Through vigilance, education, and a dedication to excellence, the battle against Bud Rot can be won, ensuring a bountiful and uncontaminated cannabis harvest for all.
Additional Resources:
"Botrytis cinerea: the cause of grey mould disease."Williamson, B., Tudzynski, B., Tudzynski, P. (2007). Molecular Plant Pathology.
---
American Lung Association:
The American Lung Association provides information on how mold affects respiratory health. Their website offers insights into mold-related issues for individuals with lung conditions: American Lung Association – Mold.
---
Centers for Disease Control and Prevention (CDC):
The CDC provides comprehensive information on mold exposure, its health effects, and how to prevent mold-related health problems. Visit their website for detailed resources: CDC – Mold.