A Brief History of Cannabis in North America
Cannabis grows wild in the U.S. and Native Americans used the herb for religious ceremonies, as a medicinal herb for various ailments and as a pre-battle smoke to calm the nerves and possibly provide added ferocity.
Cannabis may indeed have medical value but the fact that it grows wild in nature doesn't mean that it is harmless. Nightshade mushrooms grow wild and are quite toxic. Mandrake grows wild and can be lethal. While marijuana isn't a deadly toxin, the all-natural tag is misleading. Native Americans weren't concerned with the natural aspect at all and quickly found that cannabis could help with pain. They also used it to stimulate their appetite and provide some small comfort in harsh surroundings. They used it in their spiritual ceremonies to open a passage to the spirit world. It was used in peace pipes as a means of sealing treaties with a warring tribe.
Fined for not growing marijuana?
Hemp was a critical crop for the early colonists as early as 1629 and remained so until Whitney introduced the cotton gin. It was one of the first crops early North Americans produced and was used to produce paper, clothing and rope. It was so important in those early days of the United States that Virginia introduced legislation in 1762 that imposed penalties on farms that didn't grow it.
Washington and Marijuana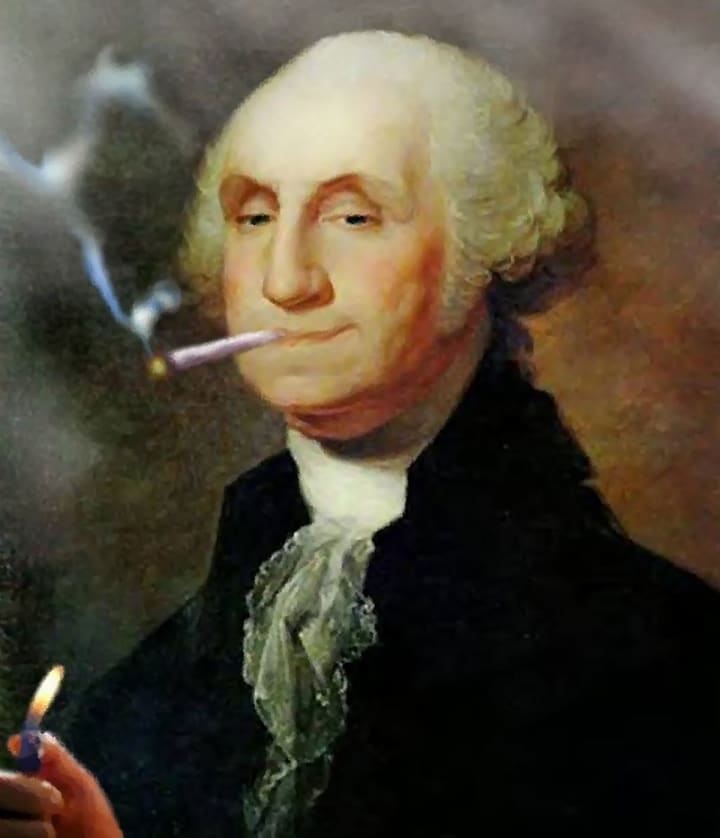 George Washington was a hemp farmer and made notes in his diary about the quality of the hemp. He also noted the separation of his male plants from the female plants. Some historians believe that George was concerned with making sure the female plant became saturated with cannabis resin but there is no evidence to support this. The best explanation is that he wanted to keep the tougher, more fibrous male plants separate from the weaker females. There is nothing to prove that George Washington smoked cannabis but the myth is repeated among marijuana advocates.
In 1793 the arrival of the cotton gin made the removal of the cotton fiber from the hull easier and much less expensive. The wide availability of cotton reduced the need for hemp as a fiber for clothing. This alone reduced the profit resulting in many farmers switching from hemp cultivation to a more lucrative endeavor. Hemp remained a profitable crop until after the Civil War because of its availability and the ease with which it turned into rope and clothing. Eventually, the price dropped until farmers couldn't make a profit and many hemp growers switched to tobacco.
Marijuana Becomes A Medicine
Far from disappearing, the resilient cannabis plant became popular as a medical treatment for numerous ailments. The United Stated Pharmacopeia recognized cannabis for its medical value as early as 1850. It was used to treat lack of appetite, gout, migraines, pain, hysteria, depression, rheumatism and many other ailments. Nothing is mentioned about the buzz that cannabis is famous for in the early documentation on the herb. Only the medicinal aspect of cannabis is stressed, this is considered a small omission.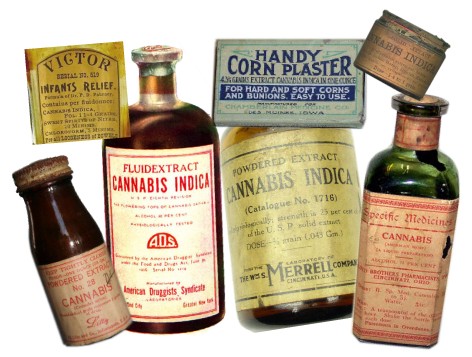 Marijuana as medical treatment didn't last long as dosage was a problem and hard to regulate. Different plants produced different amounts of THC and CBD. Ingesting marijuana didn't produce results until long after ingesting. Eating marijuana also produced different results in different patients. Since marijuana is insoluble it can't be injected as most medical treatments. The love affair with morphine and the needle was beginning and the demand for cannabis as a medical treatment decreased.