AK 47 Strain Review, Effects and Growing tips.
This strain is a mix of 4 potent landrace strains, so it's no surprise that the AK 47 strain earned its name; as it really packs quite a potent high. This strain has high THC levels, and also a moderate amount of CBD, so it's great for treating pain. Contrary to its tough-sounding name, the AK-47 strain is sweet, delicate, and flowery – the complete opposite of a weapon of war.
| | |
| --- | --- |
| Variety | Mostly Sativa – SATIVA 65% – INDICA 35% |
| Strain Genetics | Colombian, Mexican, Afghani and Thai. |
| Flowering Type | Auto-flowering or Photoperiod |
| Flowering Time | 8-9 weeks / Late October |
| Where to Grow | Indoor, Greenhouse, Outdoor |
| Medical Conditions | CHRONIC PAIN, LACK OF APPETITE, NAUSEA, SLEEP |
| Plant Height | 1 Metre |
| CBD Content | 1.5% |
| Flavours | EARTHY, FLOWERY, SOUR, SWEET |
| Effects | BODY HIGH/NUMBING, CREATIVITY, RELAXATION, UPLIFTING |
| THC Content | 20% + |
AK 47 Strain Chart


A landrace with multiple layers of genetic advantages, AK-47 cannabis can hit your mind like a gunshot in potency, but not in how the buzz feels. This strain is high in cannabinoids helping to promote healing from a wide range of medical conditions, and low on negative side effects.
Developed in eastern Europe in 1992, the AK-47 strain became the poster-child for all the amazing weed that was grown during the '90s.
Internationally, AK-47 has influenced breeders and won many awards, including the High Times Cannabis Cup. The strain is hugely popular and has become a must-have in the stash boxes of both medical cannabis patients and recreational users alike. No surprise then, if we tell you that AK-47 is one of the highest-rated strains on the planet. If you are looking for a potent, easy to grow, kick-ass, joy-bringing hybrid, you will definitely want to cultivate this strain for sure.
AK 47 Strain Review: The Basics
Listed as a Sativa dominant hybrid cannabis strain, AK-47 boasts a wide range of mind and body effects. Although mostly a Sativa, AK-47 does have some indica traits, about a 65% Sativa/35% Indica ratio. The THC levels of this strain are where it really shines, as it typically produces buds with about 20% THC content. CBD levels are not quite as impressive averaging about 1.5%.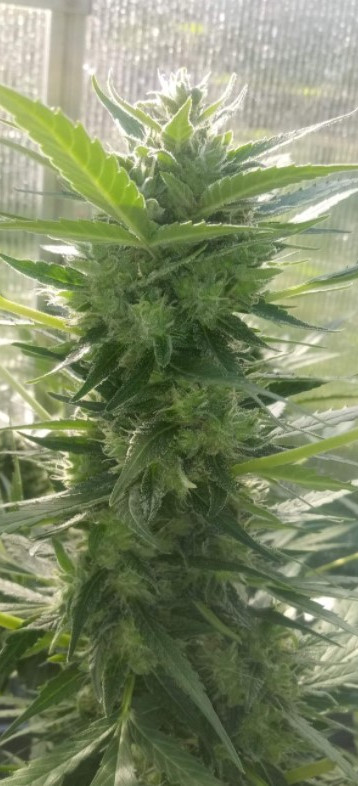 Aroma, Flavor, and Appearance
AK-47 is an intensely fragrant strain, with an aroma that is distinct in terms of the 'general weed smell,' but also unique in its own, "gun powdery" way. The first smell to hit your senses will be a little sour, followed by notes of flowers and earthiness.
AK-47's terpene profile is rich and deep that hits the taste buds with full force, but it is also pleasantly delicious – offering an array of sweet, dessert-like flavours.
Appearance-wise, this strain is a vivid lime green, infiltrated with bright red-orange pistils that curl and twist in between the sugar leaves. The buds can often also appear to have a sugar coating, due to their incredible THC content. This powdery-looking layer that coats the smokeable leaves in glistening crystals is referred to as trichomes.
The AK-47 plant grows quite tall in height, as well as wide in square footage, featuring colourful and grand calyxes of highly smokable, pungent buds. Both the terpene profile and the physical stature of this strain are something to behold.
Grow Info for AK-47
As a cannabis breeder and grower, I can tell you that AK-47 weed is pretty easy to grow, especially for those with cannabis cultivation experience. Beginners can grow this plant from seed, but be cautious as AK-47 is fairly prone to mould and mildew. We recommend growing this strain indoors or at least somewhere you can easily control humidity, ventilation and temperature.
If you thinking of planting AK-47 cannabis seeds outdoors, be advised the plants can usually only thrive in a sunny, warm and dry climate. This might not be the best strain to grow if you have nosy neighbours as the smell travels and is quite pungent.
The flowering period is typically short, usually taking about 7-9 weeks. For crops grown outdoor, harvest time is the end of October. Also, the yields from outside crops can prove to be quite bountiful if the plants are well cared for.
Indoor yields will vary by grower but usually range at around 14 ounces per square meter. Outdoor yields are a bit higher at about 14+ ounces per plant. Overall, AK-47 can be a rewarding strain to grow with beautiful and potent nugs for you to enjoy at the end.
Mind + Body Effects
The effects of AK-47 cannabis strain can best uplifting and relaxing at the same time, reducing stress levels and anxiety quite effectively. Its balanced hybrid effects ensure that it isn't overwhelming for the mind or body. The strain often helps spark creativity in those who seek to dive deeper into their artistic side. It will loosen your inhibitions and allow you to stretch your creativity and mind to new levels.
Others have described the smoke from the strain as laughing gas since it has been known to induce laughing fits and smiles all around.
The high lasts quite a long time(at around 2-4 hours), at least when compared to other hybrid weed strains. Also, it's a strain that's not capable of making you couch-locked being a mostly Sativa variety. Furthermore, this Sativa tends to put its user into a light trance, where they become motivated to accomplish their tasks for the day. Contrary to some super-high-THC Sativas, it tends to make you productive, rather than making your mind race to the point of paranoia.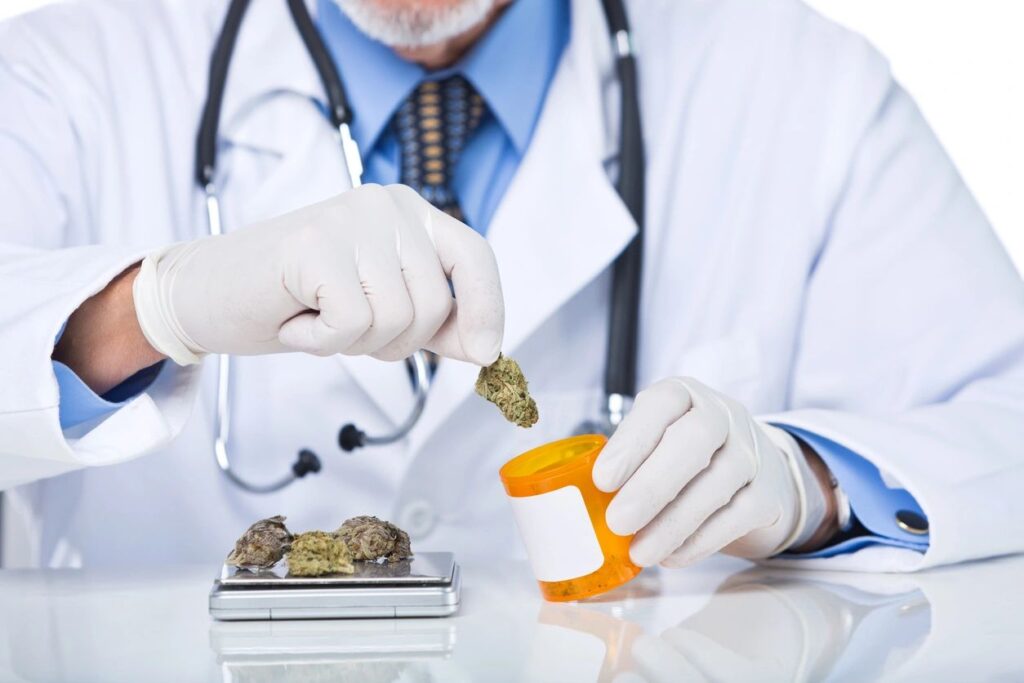 Medical Benefits of the AK 47 Strain
The combination of both Indica and Sativa parents leaves this strain with an abundance of cannabinoids for treating a multitude of medical conditions. Those with psychological conditions – such as people suffering from depression, anxiety, mood disorders, stress, and insomnia – for example, will discover that this medical strain can usually provide therapeutic relief.
However, like any Sativa strain at higher concentrations, it can worsen their affliction causing cannabis-induced paranoia, anxiety, and stress. This is easily avoided by starting slow and setting personal boundaries and sticking to those limits.
The mind isn't alone when getting relief from this strain, body pains and ailments can also be treated by AK-47. Conditions treated by this strain include pain, nausea, fatigue, appetite loss, and headaches. It has also been used successfully by those with more serious medical conditions. AK-47 has been used to help diminish the pains and nausea from chemotherapy and other treatments.
Possible Negative Side Effects of AK-47 Weed
Fortunately for those looking to grow or buy AK-47, this heavy-hitting cannabis strain has very few negative side effects.
The most often reported adverse effects of AK47 are cottonmouth (dry mouth) and dry eyes. These side effects common to most weed strains can be easily managed with ample fluids and eye drops.
AK-47 Strain Review: Final Thoughts
If you are a grower and you also suffer from depression, anxiety, stress, chronic pain, insomnia, or nausea, and have been searching for an alternative method of relief, a fast-growing AK-47 strain might be the right seeds to buy. By growing the autoflower variety shown below it will cut down on growing time and eliminate the need for light timers.
---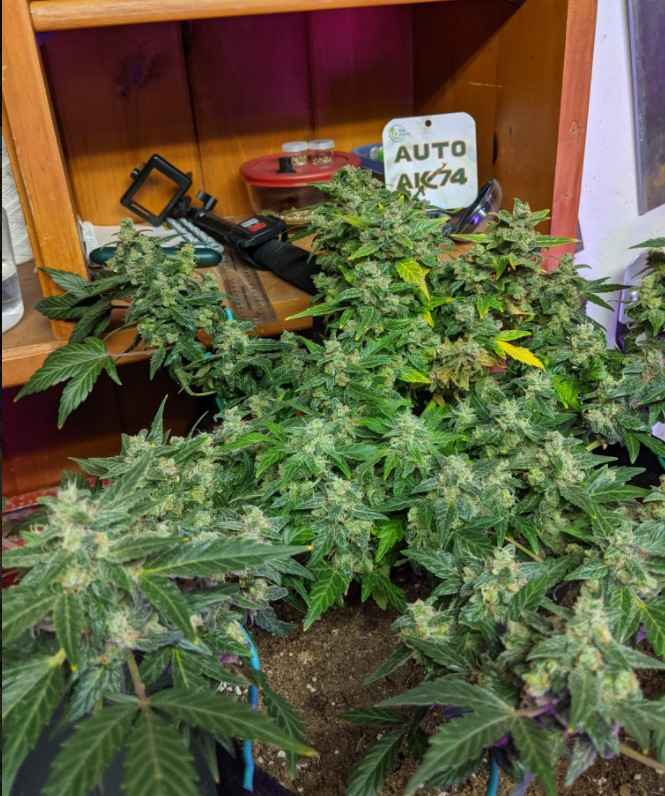 AK47 Seeds | Autoflower Feminized Sativa
AK47 Seeds | Autoflower Feminized Sativa
Strain Characteristics

| | |
| --- | --- |
| Brand Name | Auto AK74 |
| Genetics | Colombian, Mexican, Afghani and Thai X Low Ryder |
| Pack Size | 4 Seeds |
| Flowering Type | Autoflowering |
| Sex | Feminized |
| THC Content | 24% |
| Grows | Greenhouse, Indoors, Outdoors |
| Max Flowering Time | 9-10 weeks |
---