Green Crack Marijuana Strain Review
Even though this strain has 'crack' in the name, there is nothing synthetic about Green Crack Cannabis. It will make you crave more of its energizing effects and mango flavour, however. Also contrary to what its name may imply, the high is easy to come down from and won't leave you crashing. It's a great strain to have in the morning to get you through that monotonous day.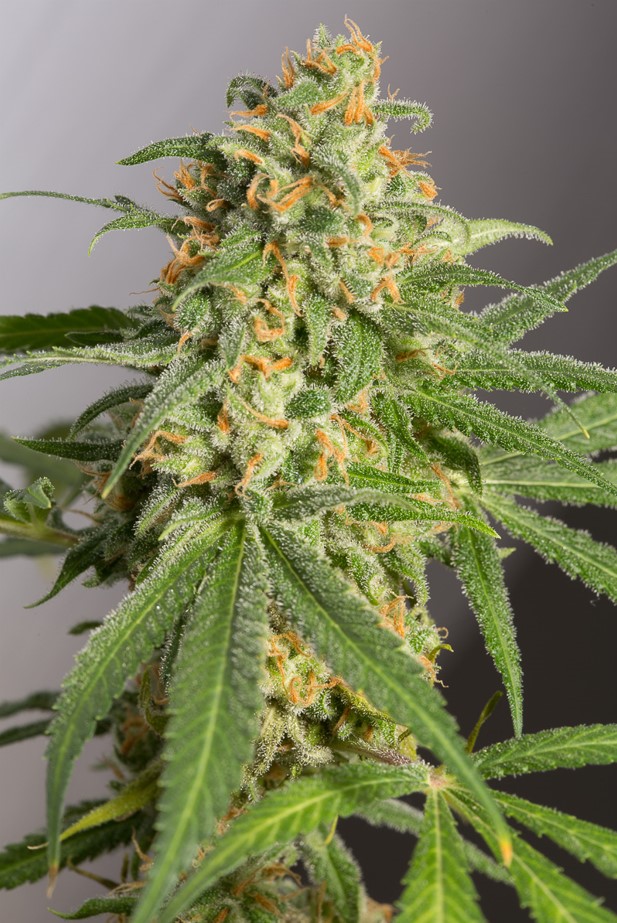 Green Crack Strain Chart
| | |
| --- | --- |
| EFFECTS | CREATIVITY, ENERGY, SPACY/CEREBRAL, UPLIFTING |
| THC | 17% + |
| Common Uses | ANXIETY, DEPRESSION, FATIGUE, STRESS |
| Variety | SATIVA 65% – INDICA 35% |
| Strain Genetics | Inbreeding of the Hybrid strain Skunk No. 1 |
| Flavours | MANGO, CITRUS, SWEET |
| Flowering Time | 8 weeks |
| Where to Grow | Indoor, Greenhouse, Outdoor |
| Plant Height | up to 1m |
| Yield | Medium-High |
What Is Green Crack?
There is a Sativa and an Indica version of Green Crack that is circulating in the cannabis seed market. Most often it will be the Sativa dominant version that you see on the shelf. It's also the more popular version having an energizing uplifting high. There is also the Indica dominant version that has tighter buds but it doesn't impress as much as its Sativa sister.
For the purposes of this review, we will be concentrating on the super popular Sativa version. The strain originated from the inbreeding of its genetic benefactor the Skunk #1 hybrid. It contains good amounts of terpenes and cannabinoids with a THC level of around 20%, which is considered to be in the High category.
Effects of Green Crack Strain
The moderately high THC content and energizing Sativa high won't knock you out but rather energize you for your day ahead. It may also give you some introspective thoughts which can be slightly distracting which most enjoy.
Even though consuming this cannabis gives you a high that is both stimulating and exhilarating, it never leaves you feeling jittery or out of control. It's the perfect strain for daytime use or to get you through that monotonous task in the evening.
Aroma, Flavor, and Appearance
Break open a bud of Green Crack and immediately you are struck with an aroma that is fruity and citrusy. It has subtle woodsy, earthy tones that blend very well with the mango flavour. Its flavour is that of sweet mangoes, with some phenotypes expressing a stronger mango or fruity taste than others. As the smoke passes over your tongue you will reminisce about biting into a ripened mango. Expect to feel a citrus aftertaste left on your tongue long after that first drag is gone, leaving your palate craving more taste bud stimulating goodness.
When growing this strain has green, yellowish flowers, with plants exposed to colder conditions showing hints of purple on the leaves and buds. The pistils are orange and red giving the buds some contrasting colour but they don't dominate the buds landscape like some other pistil-rich strains. It has a healthy dusting of trichomes covering the buds responsible for its high THC levels.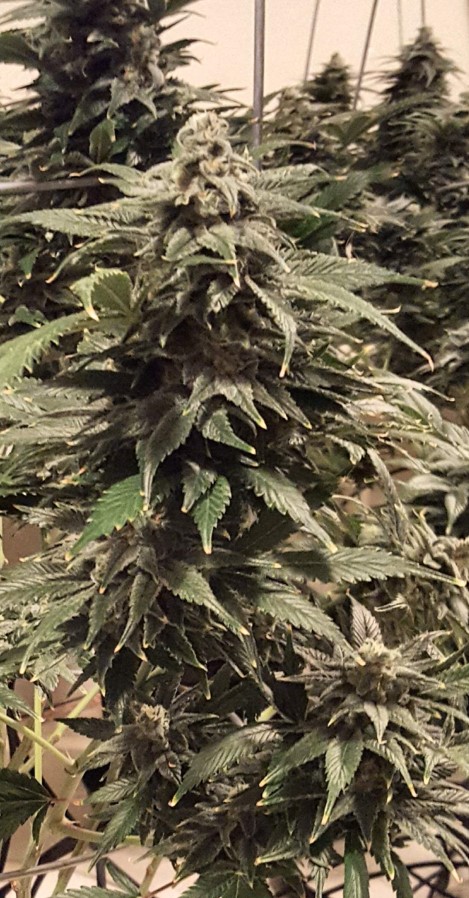 This strain is great for all cannabis cultivators from beginner level to expert. It grows well outdoors, in a greenhouse and in a closet. It is a great strain to use for crossbreeding to bring some of its mango flavours into a higher THC strain.
Even though this cannabis is very suitable for growing indoors it does excel when grown in an outdoor Mediterranean climate. If you are growing Green Crack indoors, keep an eye on the humidity levels, she prefers lower levels during flowering. It can be susceptible to mildew in higher humidity levels which can spread to your entire crop if you are not careful.
The 25 Celsius or 80 degrees (Fahrenheit) range is ideal for growing this Sativa, and it seems to love many growing mediums including hydroponics and soil. They only grow about 1.2 M or 4ft tall and yield around 20 ounces per plant outdoors and 18 oz per square meter indoors.
The flowering cycle usually lasts about 8 weeks, as long as 9 weeks for some pheons. Outdoors you can expect to harvest your crop in early October.
Medical Benefits

Green Crack won't cure any diseases or extremely serious medical conditions, but it can help people who are fatigued, depressed, anxious, stressed, or exhausted due to an underlying ailment or just in general. Its potent Sativa effects are great for motivating you throughout your day, no matter how boring.
For those battling severe motivational drain or fatigue, try consuming it in the form of an edible, concentrate, live resin, or candy. These all have higher than normal doses with less of the product needed to be heavily medicated.
Over-consuming any concentrated form of cannabis when dealing with a mental condition, can worsen the condition, such as an increase in paranoia, stress, or anxiety. Know your limits.