How to Buy the Best Grow Tent for Cannabis
Factors to Take into Account When Selecting a Cannabis Grow Tent
When embarking on the journey of cultivating cannabis, a crucial decision is choosing the right grow tent. The choice you make will significantly impact the health and yield of your plants. In this guide, we'll delve into the key factors to consider when selecting a cannabis grow tent. From the number of plants you plan to grow to the tent's features and the materials used, each aspect plays a pivotal role in creating an optimal growing environment.
Determining Plant Quantity and Tent Size
The initial factor to assess is the number of cannabis plants you intend to cultivate. This number dictates the size of the grow tent you should opt for. Grow tents come in various dimensions and heights, but the latter is particularly important due to cannabis's vertical growth tendencies. For instance, a tent with a height of 80 inches is recommended, allowing ample space for the plants to flourish without interfering with the grow light setup. Typically, grow lights are positioned about a foot from the tent's ceiling, and the cannabis plants should be situated at least 18 inches away from the light source.
It's crucial to remember that cannabis plants require room for horizontal expansion as well. In a 4 x 4 tent, only a 3 x 3 space can effectively be utilized due to this growth pattern.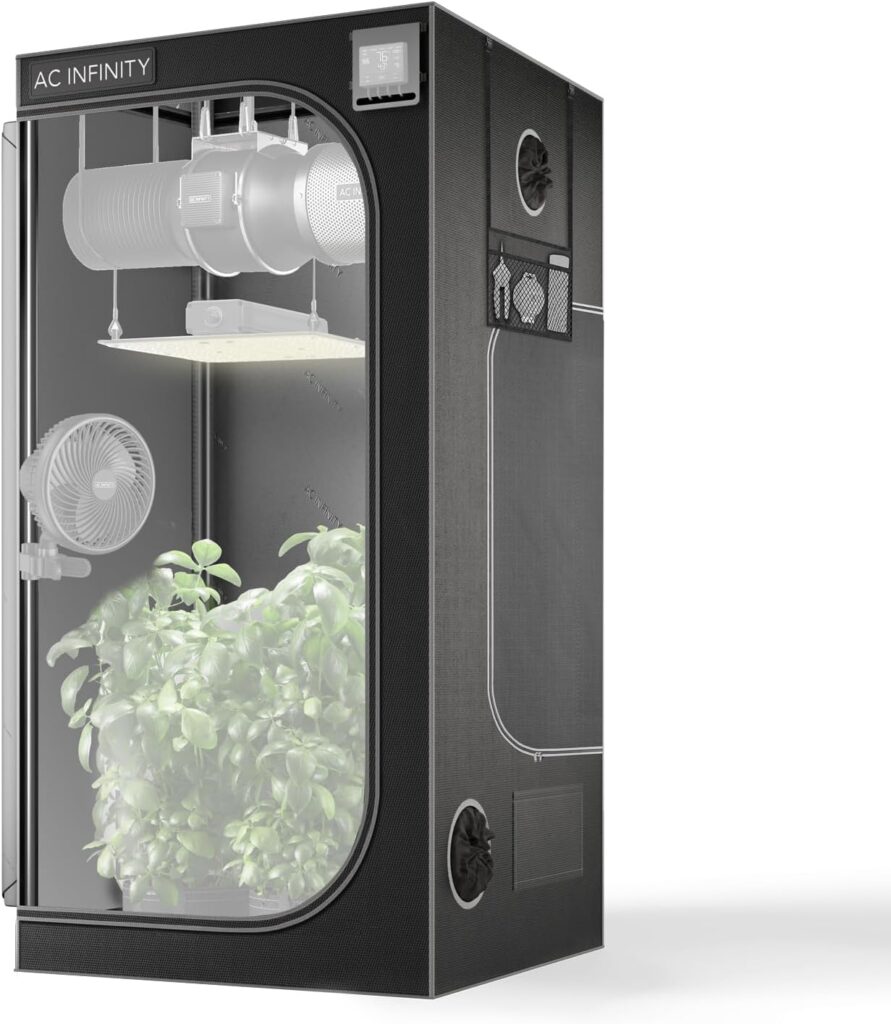 Essential Features of a Grow Tent
A high-quality grow tent should encompass several essential features to ensure optimal growth conditions for your cannabis plants. These features contribute to convenience and efficiency throughout the cultivation process.
Viewing Windows: Incorporating viewing windows into the tent design eliminates the need for constant entry, which could disturb the internal environment. These windows allow you to monitor the plants without compromising their growing conditions.
Ample Doors: Opt for a tent with generously sized doors. This design element facilitates easy access to the plants, streamlining maintenance and care routines.
Waterproof Floor Trays: Efficient drainage is vital. Waterproof floor trays collect excess water runoff, simplifying the cleanup process between growing cycles and preventing potential issues.
Exhaust Ducting Vents: Proper air circulation is essential for healthy plant development. Exhaust ducting vents enhance carbon dioxide circulation and airflow, bolstering plant growth and minimizing any unwanted odors.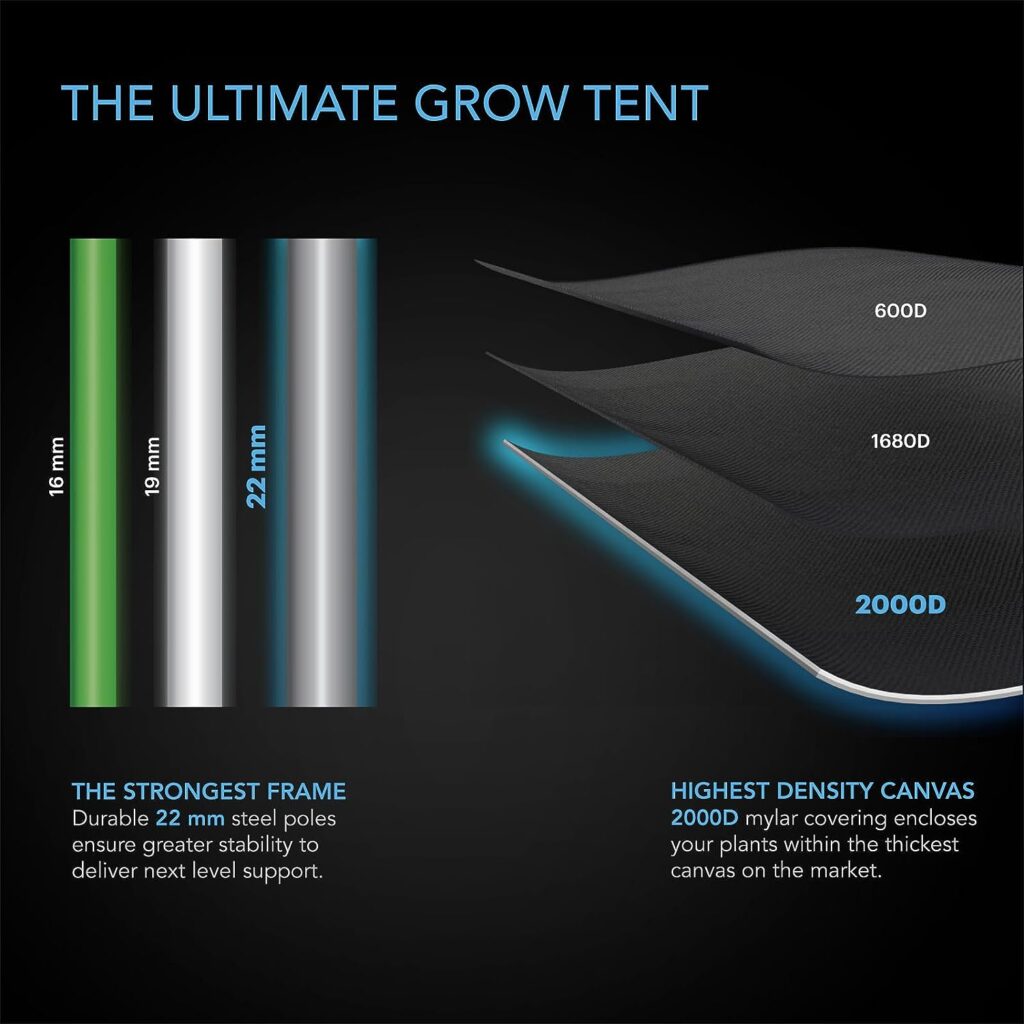 Selecting Sturdy and Resilient Materials
The materials used in the construction of the grow tent directly impact its durability and performance. Opt for tear-resistant fabrics and high-quality seals to ensure the tent can withstand the rigors of regular use. Don't overlook the importance of robust zippers and secure joints, as these components will experience frequent handling.
As the perception of marijuana shifts, it's becoming increasingly clear that responsible usage is gaining traction. Cultivating cannabis demands dedication and consistent attention to detail for the plants to thrive and produce high-quality yields.
For those interested in pursuing personal cultivation, consider exploring Dagga Seeds comprehensive selection of cannabis seeds, designed to simplify and enhance the cannabis growing experience.
Top Selling Grow Tents
In the ever-expanding world of cannabis cultivation, selecting the right grow tent is paramount. To aid you in this crucial decision, we've compiled a list of top-selling grow tents known for their quality, durability, and performance. Each of these tents comes from reputable manufacturers renowned in the cannabis cultivation community. Below is a comprehensive guide highlighting the key features and benefits of the leading grow tents available in the market today.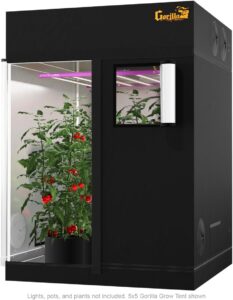 I. Gorilla Grow Tent
Premium Indoor Growing with Gorilla Grow Tent: Gorilla Grow Tent is your go-to solution for indoor gardening, catering to a diverse range of plants including vegetables, flowering plants, and mushrooms. Available in multiple sizes, including 2×2.5, 2×4, 3×3, 4×4, 5×5, 4×8, 5×9, 8×8, 9×9, 10×10, 8×16, and 10×20, these tents offer a tailored fit for your specific gardening needs.
Unmatched Height Flexibility for Superior Yields: Achieve larger yields with Gorilla Grow Tent's exceptional height adjustability. Elevate your plants from 5'11" to 6'11" with the included 1′ extension kit, or go even higher from 7'11" to 8'11" with the 2′ extension kit (sold separately). This adaptability ensures your plants receive the optimal space they need to thrive.
Exceptional Durability and Strength: Experience the sturdiest and thickest construction in Gorilla Grow Tent. Boasting double-thick industrial-strength canvas with diamond reflective walls, these tents are built to last. The industrial-strength powder-coated steel poles, equipped with interlocking pins, can support an impressive weight of up to 300 lbs, ensuring stability and longevity.
Professional Features for Seamless Cultivation: Gorilla Grow Tent offers a range of professional features for hassle-free cultivation. Enjoy 360˚ full garden access, industrial-strength zippers, light-tight zipper covers, double cinching duct ports, a deep spill tray, dual EZ view windows, micro mesh vent screens, synchronized hanging straps, a tool pouch, and more. These features provide a convenient and efficient growing experience.
Trusted California Craftsmanship with Outstanding Support: Designed in California, Gorilla Grow Tent is backed by industry-leading customer support and is part of the Grow Strong Industries family of brands. With a focus on quality and innovation, Gorilla Grow Tent ensures you receive top-notch products and assistance throughout your gardening journey.
Height adjusting Roof
All Steel Frame
Diamond Reflective material
Industrial Strength Zippers
Double Clinching Duct Ports
Easy View Windows
Rear Access Door
Heavy Duty Spill Tray
Tools Storage Pouch
Micro Mesh Pre-Filters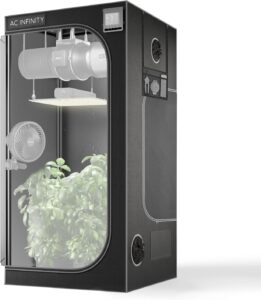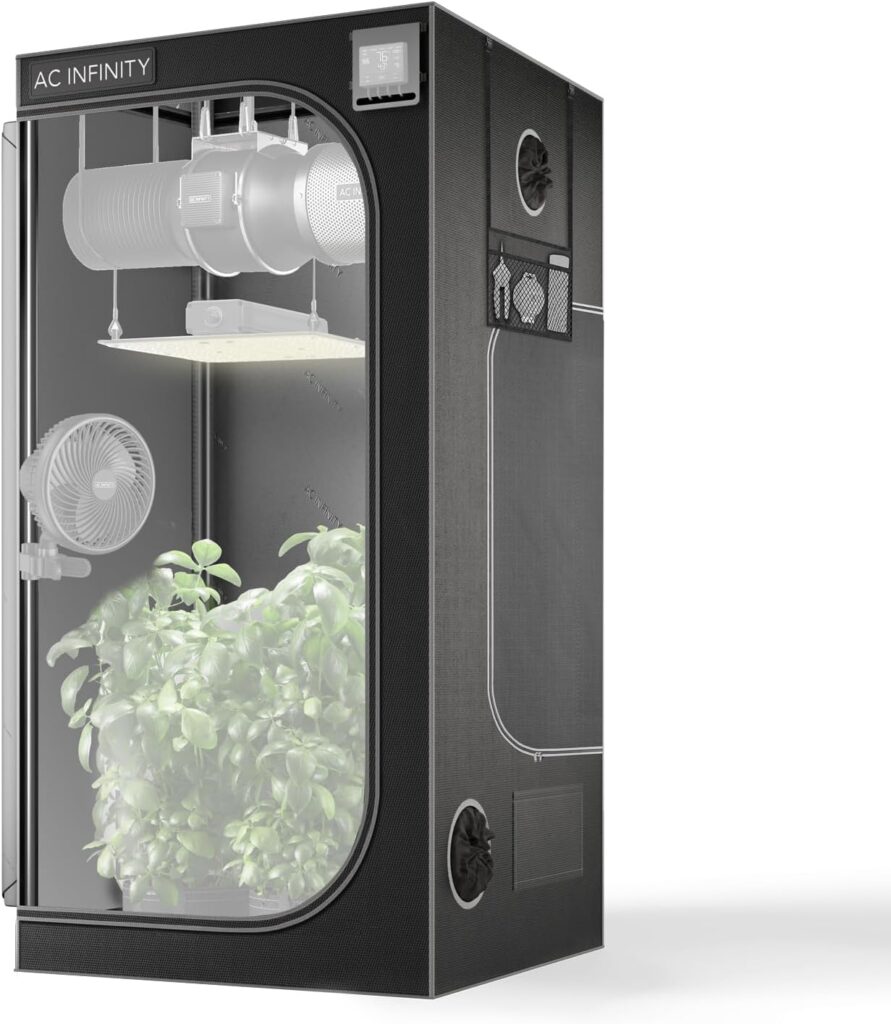 II. AC Infinity Grow Tent
Innovative and Future-Ready Design: This advanced grow tent boasts a forward-looking design featuring an aluminum plate specifically crafted to securely attach any controller onto the tent. The tent is equipped with strategic cutouts and rear patching, facilitating lightproof cable passthrough. These design elements ensure your setup remains organized, efficient, and prepared for future upgrades.
Rugged Construction with Heavy-Duty Canvas: Crafted from ultra-durable 2000D Oxford canvas, this grow tent is built to last. The canvas is reinforced with layered materials and features cross-patterned diamond mylar walls, maximizing light reflectivity within the tent. This heavy-duty construction guarantees longevity and optimal light utilization for your plants.
Robust Frame for Long-Lasting Support: The grow tent boasts a robust framework composed of 22mm thick poles and support beams. This resilient frame can withstand significant loads, supporting up to 150 lbs. of inline fans and grow lights. With this sturdy foundation, you can confidently install essential equipment without worrying about stability issues.
Complete with Essential Accessories for Convenience: To enhance your cultivation experience, the grow tent comes with essential accessories. An inside tool organizer ensures your gardening tools are always within reach, keeping your workspace tidy. Additionally, the tent includes a water-resistant floor tray with mylar lining. This tray not only keeps the tent clean but also reflects grow light output, optimizing the illumination for your plants. With these accessories, your grow tent setup is both efficient and organized.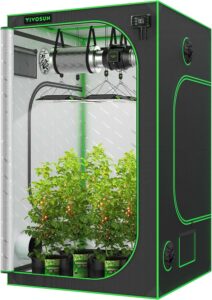 III. Vivosun Grow Tent
Optimal Light Containment: The VIVOSUN Hydroponic Mylar Grow Tent ensures complete light containment. Crafted from durable 600D Oxford canvas and lined with a reinforced PE layer and 100%-reflective mylar walls, this tent effectively prevents light leakage, enhancing your setup's efficiency. The upgraded zipper features a black inner lining, further preventing light intrusion without the need for additional flaps or tape, creating a fully lightproof environment.
Sturdy Construction & Premium Materials: This indoor growing tent is reinforced with robust metal poles, top bars, and tool-free corner connectors, ensuring a secure and stable structure. The top hanging bar can support up to 100 lbs., accommodating various equipment requirements. The tent's premium 340 g high-density fabric is not only waterproof but also tear-resistant, providing excellent light blockage. The interior lining, made with PE material and mylar walls, prioritizes your plants' safety.
Convenient Observation & Maintenance: The tent features a transparent plastic window, allowing you to monitor your plants' growth easily. Additionally, a lower window aids in heat dissipation. The hook and loop fasteners on the window cover simplify opening and observation. The tent also includes a removable floor tray for effortless cleaning and maintenance.
Effortless Assembly: Setting up our grow tents is a breeze, even for beginners. The detailed instructions guide you through the assembly process, ensuring a quick setup. Multiple doors equipped with easy-access zippers allow smooth access, enhancing your workflow. The tent's stable frame is upheld by corner connectors, eliminating the need for tools. Plus, two hanging straps are included, enabling you to secure the carbon filter according to your requirements.
Thoughtful Design & Versatile Options: The grow tent features multiple openings for accommodating duct fans, lamps, electrical cords, and more. An inner tool organizer provides convenient storage for your gardening tools. Suitable for various spaces in your home, such as the garage, balcony, laundry room, or closet, this tent offers versatility. We offer a range of sizes to meet your specific cultivation needs, ensuring a tailored solution for every grower.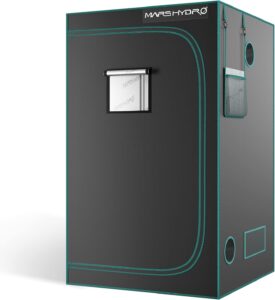 IV. Mars Hydro Grow Tent
Perfect Light Containment with Upgraded Features: The MARS HYDRO grow tent interior boasts highly reflective density diamond mylar, ensuring optimal light distribution within the tent. An exclusive shade cloth is meticulously added to the stitching between the zipper and canvas, eliminating pinhole leaks and guaranteeing perfect light locking. The 1680D canvas, double-stitched and tear-proof, maintains a lightproof seal, keeping 100% lighting beams inside and enhancing plant growth.
Robust Metal Structure and Effortless Setup: Designed with stable metal poles, corner adapters, and top bars, this growing tent excels in durability, resisting rust and paint peeling. The thick and solid steel poles can bear more weight than comparable grow tents. Assembly is a breeze, facilitated by pop snaps and holes that enable quick setup for hydroponic growth and gardening, saving you valuable time.
Smooth and Reliable Dual Zippers: The grow tent features strong heavy-duty metal zippers with double layers of black lining inside, creating a lightproof sealed space. These zippers block unwanted light effectively, providing an optimal environment for your indoor plants to thrive. The zippers operate smoothly, reducing the risk of damage and ensuring a longer lifespan for your grow tent.
User-Friendly Design and Easy Maintenance: Equipped with a viewing window comprising double layers of cloth, this grow tent allows easy observation of your plants without the need to open the tent. Additionally, a detachable waterproof floor tray is included, simplifying cleanup by collecting soil and fallen leaves. Please note that some smaller grow tents may not feature a viewing window.
High-Reflectivity Verified by Data: MARS HYDRO's diamond mylar is scientifically proven to possess superior reflective performance compared to other brands on the market. Extensive data tests confirm that MARS HYDRO grow tents exhibit up to 1.5X to 2X higher reflectivity than competitors. This enhanced reflectivity ensures a stable environment, promotes even light absorption by plants, and supports their thriving growth from the vegetative stage to harvest.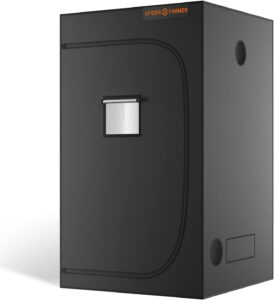 V. Spider Farmer Grow Tent
Professional-Grade Grow Tent for Optimal Growth Conditions: This grow tent is designed to cater to professional standards, ensuring precise control over light and temperature to create the ideal growth environment for your cherished plants. Its exceptional features guarantee an environment where your plants can thrive.
Premium Quality Materials for Maximum Efficiency: Crafted with high-quality Oxford canvas and reflective mylar, this grow tent maximizes light reflectivity while preventing any light leaks. The combination of these materials creates an environment where light is efficiently utilized, promoting healthy plant growth and development.
Exceptional Strength and Durability: The metal frame of this grow tent is constructed from hardened steel, providing unparalleled strength and durability. Compared to other tents, this one is three times thicker, ensuring longevity and stability. Additionally, the metal angle adapter enhances stability and has an impressive load capacity of up to 153 lbs, making it ideal for various equipment setups.
Convenient Observation Window for Easy Monitoring: Featuring a practical viewing window, this grow tent allows you to effortlessly observe your plants at any time without the need to open the door. This convenient feature enables you to keep a close eye on your plants' progress, ensuring they receive the care they need for optimal growth.
Tool-Free Installation for Effortless Setup: Setting up this grow tent is a hassle-free experience as it requires no tools. Simply connect the metal frame to the corner adapter, pull the tent over the frame, add the floor tray, and your setup is complete. This user-friendly design ensures a quick and straightforward installation process, allowing you to focus on cultivating your plants without unnecessary complexities.
Frequently Asked Questions About Marijuana Grow Tents
1. Do Grow Tents Require Ventilation?
Absolutely, proper ventilation within your grow tent is paramount. Adequate air circulation helps maintain optimal temperatures and strengthens plant growth.
2. Advantages of Cultivating Cannabis in Grow Tents
Numerous benefits accompany growing cannabis in a dedicated tent environment:
Affordability: Grow tents are budget-friendly, with average prices ranging from $70 to $250.
Ease of Setup: Setting up a grow tent is relatively straightforward and doesn't require extensive expertise.
Light and Odor Control: Grow tents effectively contain light and scent, preventing their escape.
Pest Prevention: Tents act as a barrier against pests, safeguarding your plants.
3. Are Grow Tents a Worthy Investment?
Despite the initial cost, grow tents prove their value in the long run. They offer a range of advantages that contribute to successful cannabis cultivation:
Light Management: You can precisely control the amount of light your plants receive.
Optimized Growing Conditions: Grow tents enable meticulous regulation of temperature and environmental conditions.
Privacy and Scent Control: Tents provide privacy from curious onlookers and manage the distinctive cannabis odor.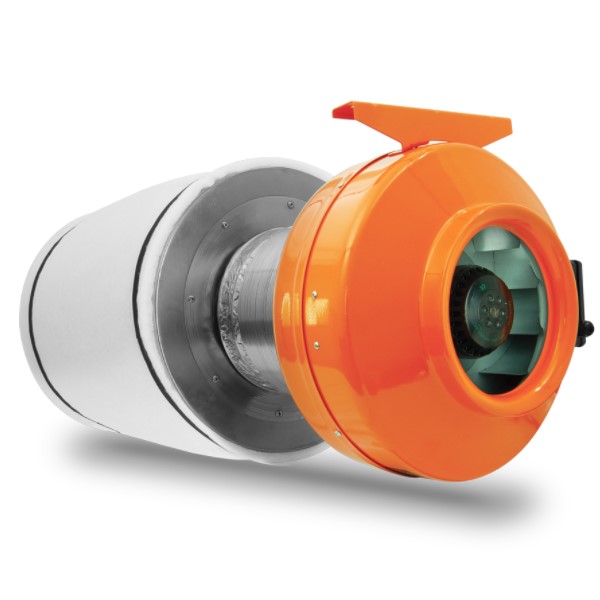 4. Additional Equipment for Optimal Cultivation
To achieve optimal results inside your grow tent, certain additional equipment is essential:
Grow Lights: Invest in a comprehensive grow light system that includes a ballast, hood, hanging equipment, power strip, and timer.
Ventilation System: If your grow tent lacks a built-in ventilation system, consider acquiring one with carbon filters, ducting, duct clips, and exhaust fans.
Pots, Growing Medium, and Seeds: Obtain suitable pots and growing medium for your plants. Then consult a resource like Dagga Seeds for a diverse selection of feminized seeds for successful cannabis cultivation within grow tents.
Growing Cannabis With the legalization of marijuana, an interesting trend has emerged. Regular consumers of the plant prefer to grow it themselves rather than buy it from expensive and sometimes unscrupulous sources. Of course, not everyone has acreage to grow the plant, but the alternative of a grow tent comes in handy for small scale consumers. A marijuana grow tent is a portable grow space that enables one to utilize a small space wisely when growing cannabis. The right kind of grow tent will yield incredible results and the wrong one will result in losing the entire harvest. Key Benefits of Using a Grow Tent Creates an all-in-one grow room: Grow tents allow you to create a self-contained environment that optimizes growing your cannabis, allowing you to control light cycles, temperature, airflow, and smell. Creates a light-proof environment: Light leakage can significantly affect your harvest. And by using a light-proof tent, you have greater control of your plants' light source and cycle. Has reflective walls: Reflective walls help reflect light back to the plants to boost growth. Creates privacy from unwanted eyes: Grow tents allow you to place your plants in any part of your house or garden away from people who might be judgy or ridiculous. Are you thinking of growing your own marijuana plant for personal use? Shop our best selection of Cannabis seeds.
Considering Personal Cannabis Cultivation? Explore Our Premium Cannabis Seeds
If the idea of nurturing your very own marijuana plants for personal use has piqued your interest, we invite you to explore our carefully curated selection of premium cannabis seeds. Your journey into home cultivation begins with the finest genetic foundations, setting the stage for a rewarding and fulfilling endeavor.
In conclusion, the realm of cannabis cultivation is experiencing a transformative shift. The allure of growing one's cannabis is increasingly appealing, fueled by the advantages of controlled environments like grow tents. Dagga Seeds stands as a guiding light in this journey, supporting enthusiasts as they embark on the path to cultivating their cannabis in a way that's efficient, private, and ultimately rewarding.