TIPS FOR GERMINATING YOUR OLD CANNABIS SEEDS
Have you ever found an odd seed somewhere at the bottom of an old weed storage bin? Here are a few tips on how to ensure germination of that old cannabis seed:
Pre-soak your cannabis seeds to improve germination rate.
Before germinating your old seeds, you can try soaking them in one of the following:
carbonated water enriched with fulvic acid,
hydrogen peroxide, or
For top results, use room temperature rainwater and soak your seeds for 12 to 18 hours in a dark place.
Nick you cannabis seeds to increase germination rate. (Scarified seeds)
Put a small cut(nick) in the seeds with the edge of a pair of nail clippers. A nail file or a piece of sandpaper can sand through the seed's edge. Make a very shallow cut on the seed, just enough to allow water to penetrate the seed casing. Be careful to avoid damaging the seed embryo – you want to cut just through the seed casing while leaving the seed's embryo and other seed structures uncut.
*Don't Store Scarified seeds because they can quickly lose the ability to sprout.
So, why should you nick your cannabis seed casings? Nicking your seeds before germinating helps the seeds absorb liquid, which tells the plant embryo to start the germination process. Nicking marijuana seeds and then soaking them in water will increase the speed of them sprouting. This technique is also referred to as scarification.
---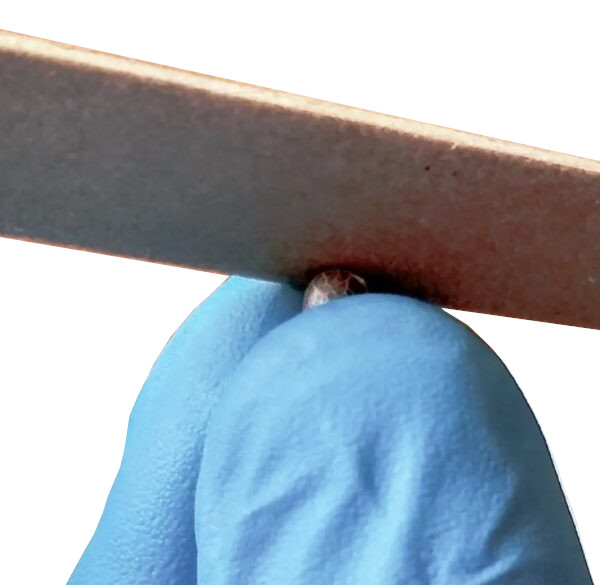 Scar your cannabis seeds to increase germination rate.
Older marijuana seeds often have an extra tough outer casing. Gently scratching the shell of the seed casing with a fingernail file can help water enter your seed to increase germination rates. Try gently sanding your old cannabis seed shells just before soaking to help them sprout.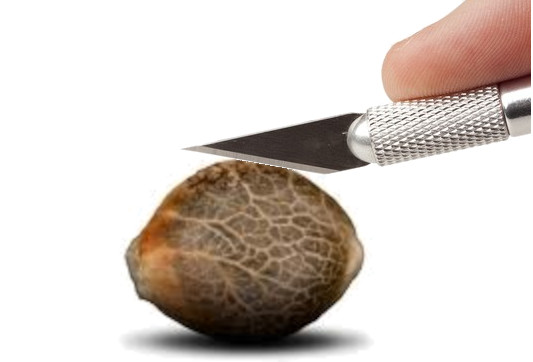 Remove a seed's ridge
The ridge is the elevated side of your seed as shown in the picture. Like other parts of the seed shell, this ridge can become extra tough after a long time in storage. Removing it gently with a razor-sharp blade can help your seed sprout and grow.
Don't forget, some old marijuana seeds just won't sprout no matter how much love you give them. Whenever possible, avoid buying more seeds than you plan to grow so as to avoid having any problems at the time of germination.