Which Is Better For Growing? Seeds Or Clones

When growing weed, you have two starting methods to choose from: seeds or clones. On one hand, seeds are more reliable, easier, and accessible. Clones are faster, more efficient, and carry the exact genes of the mother. However, both methods have their upsides and downsides. Let's compare clones and seeds so you can decide how best to proceed with your cannabis grow.

Cannabis Growers can start a grow in one of two ways. They can either germinate their cannabis seeds or take cuttings from a cannabis mother plant. Both of these methods work and give you similar results—THC/CBD-rich buds—but take different paths to get there.
Some cannabis cultivators prefer the speed of cloning, whereas other growers prefer going start to finish, from seeds. Whether you're a newb grower or a seasoned cultivator, it's key to learn about both methods so you can experiment in the future and maximize your results.
Clones and cannabis seeds both have a different set of pros and cons. Once you weigh up the characteristics of each, you'll be able to decide which way you want to reproduce your cannabis plants.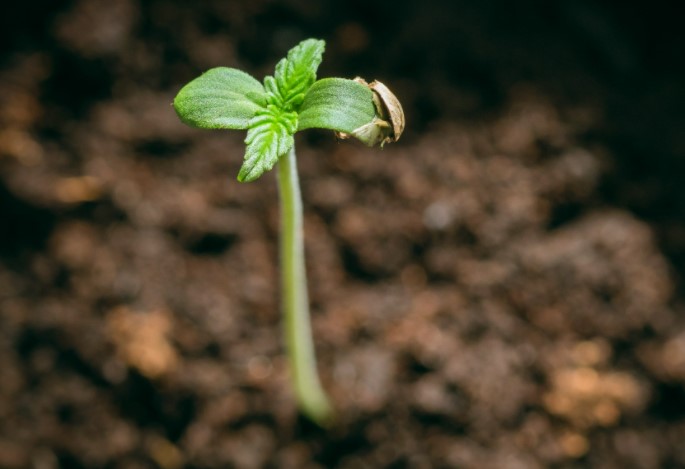 BENEFITS OF GROWING CANNABIS FROM SEEDS
Some growers view growing from seeds as the "pure" way to cultivate cannabis. It does come with that extra sense of satisfaction.
Most home cultivators around the planet start their cannabis projects using seeds. That's mostly because they're more accessible and legal in most of the world, but that's not the only thing going for them. Let's talk about some of the best reasons to grow from seeds.

EASY TO ACCESS
The internet's made a lot of things simpler to access, especially cannabis seeds.
You can easily order cannabis seeds online from a long list of great seed banks (like Dagga Seeds, of course). They'll ship discreet packages directly to your home or mailbox, so you'll never have to hunt for seeds.
Even in countries where cannabis is still illegal, ungerminated marijuana seeds are often perfectly legal to order, own, and store. Starting with seeds will keep you legal until you plant them in some grow medium.
STARTING FROM SCRATCH
Seeds enable growers to start with a new batch of cannabis genetics. These small packages of happy DNA house a code that hasn't been grown in a poor growing environment or exposed to a host of diseases. As we'll discuss further down, the same can't be said for all cannabis clones.
BREED YOUR OWN TOP STRAINS
Once you've become a cannabis guru at the art of growing cannabis from seeds, you can start to make your own dank strains. Breed your favourite female strain with a new male strain, and you'll have hundreds maybe even thousands of your own cannabis seeds at the end of the grow. Hone in on traits that you want the most for recreational or medical cannabis.
FEMINIZED SEEDS = DANK FLOWERS
Although regular seeds sprout as both male and female, top-quality feminized seeds offer a 99% chance of being a female plant.
Why is this important? Well, as you know, female cannabis plants are the plants that you smoke or turn into concentrates. In contrast, male cannabis produces pollen detrimental to the smokability of the female plants they breed with.
With feminized seeds, you'll save a tremendous amount of effort you'd normally spend on getting rid of male cannabis plants. In turn, you'll get tons of quality marijuana buds.
DISADVANTAGES OF GROWING CANNABIS FROM SEEDS
From what you have read up to this point, starting with seeds might seem like heaven. However, everything has a downside. With that thought in mind, let's change the discussion to the not-so-great aspects of growing from seeds.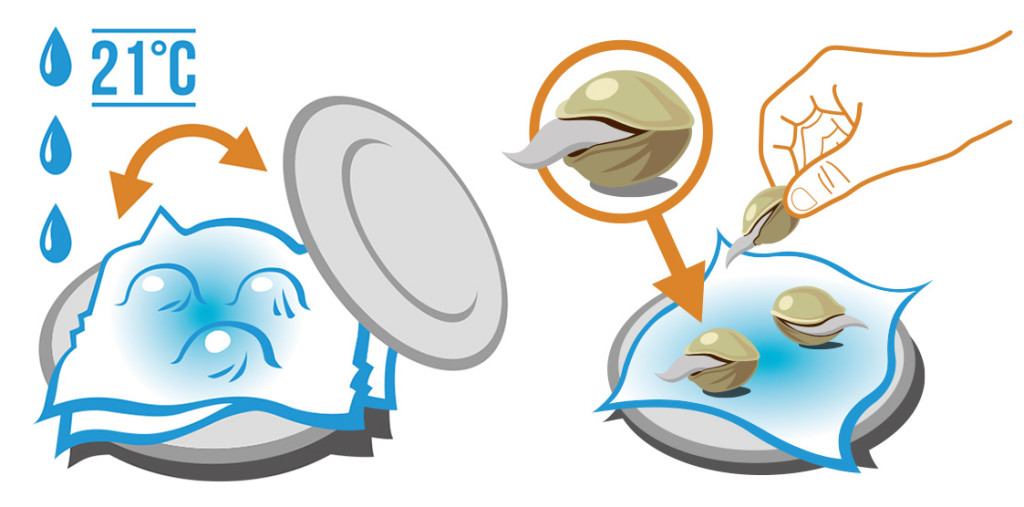 THEY DON'T ALWAYS SPROUT
Although good seed banks offer a higher germination rate, not every cannabis seed will sprout. No matter how good a grower you are, some are simply duds. For this reason, we suggest germinating several seeds, even if you plan on only raising a single plant.
GENOTYPE VS PHENOTYPE
Every seed from the same cannabis plant will have a slightly different genotype—a unique genetic map. There will always be genetic variation from parents to offspring, and sibling to sibling.
This means growing from seed won't produce an exact duplicate of a particular cannabis parent, and you'll see differences between siblings that you grow. If you plant four of the same seeds, you'll notice some variation in flavour, height, colour, and final yield.
Cannabis plants also display specific traits based on the environment they are grown in, a major factor that influences plant phenotype. Temperature, light, nutrients, humidity, and water can all impact the phenotype expressed. In this way, getting a uniform cannabis crop is more difficult than with cannabis clones.

SLOWER TO START
Seeds take longer than cloning cannabis to reach your harvest time. It takes up to a week to see signs of growth emerge from the growing medium. Plus, add another week or two for your plant to become a mature sprout. It might not seem that long, but that's why fast-growing auto-flower strains are as popular as they are.

For those new to growing, clones are cuttings taken from vegetative growth mother plants. Once cut, growers root the cutting, sometimes in water, other times in soil or a hydroponic medium.
A clone provides a perfect genetic copy of the mother cannabis plant. This can either be a good thing or a bad, as you'll see below. First, let's talk about the advantages.

CUTTINGS FROM FEMALES CREATE NEW FEMALES
Because clones are exact copies of the mother, cuttings taken will produce another female plant. This allows growers to avoid the 50/50 chance that comes with growing regular cannabis seeds.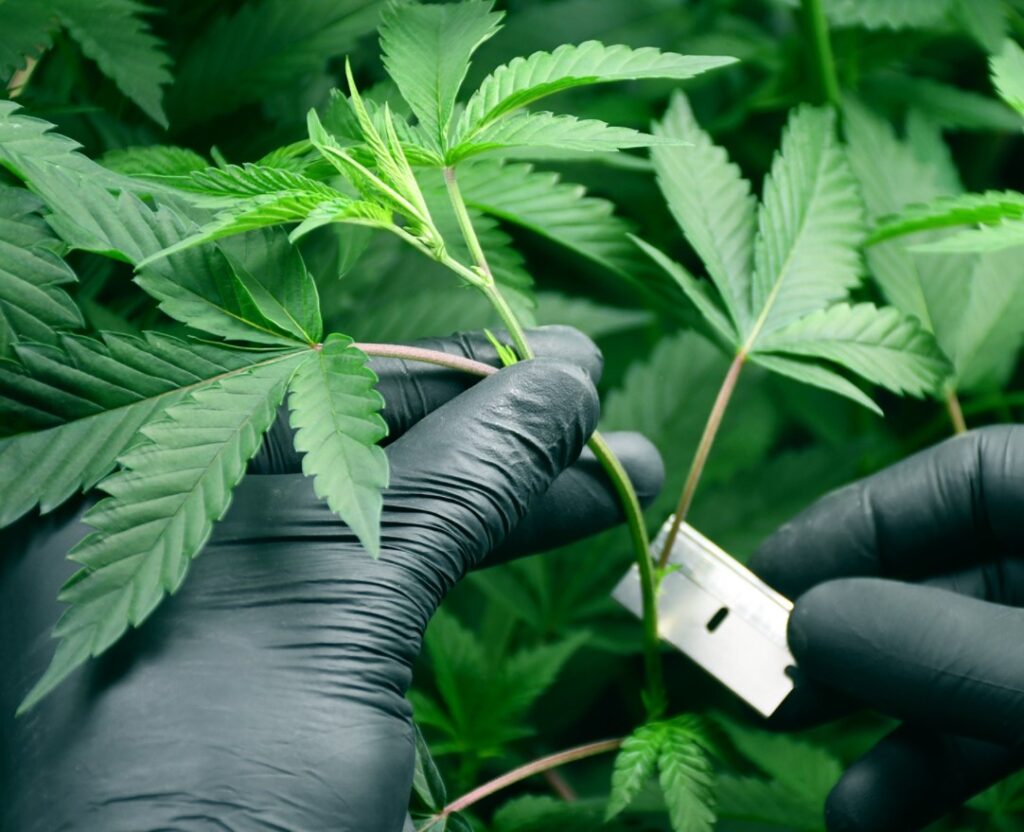 CLONES SAVE TIME
With cloning, you don't need to wait for a seed to sprout and grow into a good-sized seedling. In fact, you completely skip past that growth stage! Simply root your cannabis cutting, and you've got a ready-to-grow plant.
YOU KNOW EXACTLY WHAT TO EXPECT
Clones deliver exactly what you liked about your cannabis mother plant. As exact genetic clones, they'll carry over all of the mother's best and worst traits, including taste, size, and THC/CBD content. Seeds will differ a little from the plants they were cut from, due to genetic and environmental differences.
DISADVANTAGES OF GROWING CANNABIS FROM CLONES
Clones tend to outperform seeds in some areas, but they aren't infallible. Here are some problems you might run into if you decide to grow cannabis from clones.
GOOD LUCK FINDING THEM
Need seeds? Go look up a seed bank online. Want cannabis clones? Good luck with that. Since clones need to be taken from another cannabis plant, clones can be difficult to obtain if you're a home grower. Plus, they're not legal in most areas before they even end up in your grow room, making shipping them a little risky.
Hitting up your growing buddies might be the best way to find clones in most places. Ask nicely, and you might head home with a cutting.

YOU NEED TO BE CAREFUL
Seeds are relatively tough. They can be put straight into the dirt. Clones are more delicate and need to be treated as such. If you handle cuttings too aggressively or fail to provide them with a good start, they'll die before they put out their roots.
Cannabis clones also require a humid environment with custom growing conditions to give them the best chance of growing new roots. They need optimal environments finely tuned and consistent temperatures. For these reasons, you'll need to set up a separate grow space in your room to cater to their specific needs.
YOU GET THE BAD TRAITS, TOO
Mother plants pass on all their traits to their clones, including the bad traits. The mother cannabis plant, whether you can see it or not, might have an underlying genetic fault. It might not become visible until you've grown a few clones, but it'll do some damage when it does.
CANNABIS SEEDS OR CLONES — WHICH IS BETTER FOR GROWING?
Honestly, the answer is completely subjective. It all boils down to your personal preferences and skills as a grower. Beginner growers will have a much easier time—and see better results—using cannabis seeds. Clones are slightly more tricky, and best reserved for slightly more experienced cultivators. However, even veteran growers will also choose seeds for cannabis breeding purposes, or to see plants through from seed to finish.
Experimenting with different growing techniques will help you to find your own way of doing things. Try both and see what works best for you and your cannabis grow style. Good luck!