ZkittleZ Strain Review, Effects, and Growing tips.
The Zkittlez marijuana strain is just as much fun to consume as a bag of Skittles candy. With a taste profile that includes flavours of strawberry, grape, lemon, and berry, you will think you ate the rainbow. To accompany the amazing fruity taste you will feel calm, focused and relaxed all at once after using this tasty Indica.
Flowering in just 7 to 8 weeks Zkittlez feminized seeds has a high yield of fruity buds with awesome bag appeal, testing at levels as high as 28% THC.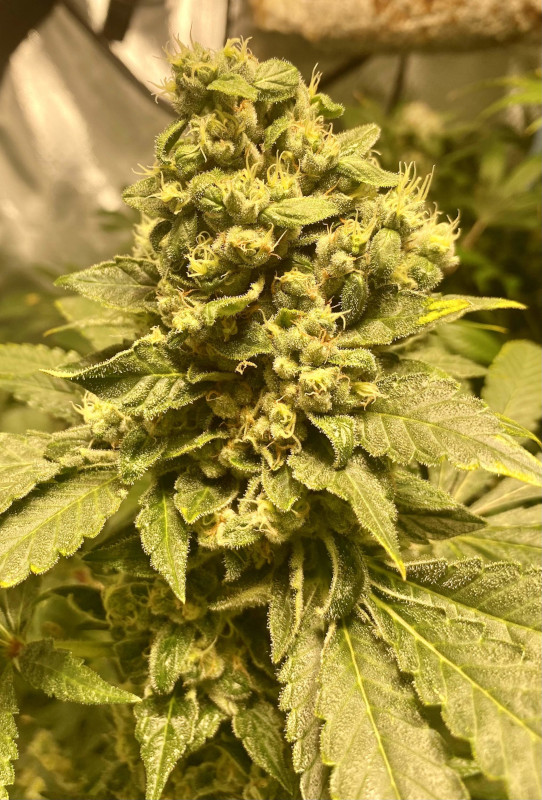 Zkittlez Strain Information
| | |
| --- | --- |
| Sex | Feminized |
| Variety | Indica / Sativa 70% Indica 30% Sativa |
| Zkittlez Strain Genetics | Grape Ape x Grapefruit |
| Flowering Type | Photoperiod |
| Zkittlez Strain Flowering Time | 53-63 Days |
| Where to Grow | Indoor, Greenhouse, Outdoor |
| Zkittlez Strain Medical Conditions | Anxiety, Depression, Hypertension, Stress |
| Zkittlez Taste / Flavor | Skittles, Berry, Candy, Fruity, Fuel, Grape, Orange, Sweet, Tropical |
| Zkittlez Strain Effect | Active, Cerebral, Euphoric, Focused, Hungry, Stimulant, Uplifting |
| Zkittlez CBD Content | >1% |
| Zkittlez THC Content | 19-28% |
| Zkittlez Strain Yield | Very High |
Zkittlez Strain Information Chart
The Zkittlez strain is a great example of what can be accomplished when two very different strains are crossbred. It offers some traits that both Sativa lovers and Indica Lovers can appreciate. The high is great during the day and also in the evening as this Indica Leaning Hybrid won't leave you too heavy or couch-locked. It will focus you on a task and help you to mellow out after you are all done, don't forget the snacks!
Let's examine the Zkittlez strain up close and find out what you can expect when growing this fruity Indica strain.
What is the Zkittlez Cannabis Strain?
Zkittlez is fastly becoming a legendary cannabis strain earning respect by winning countless awards including the Cannabis Cup. The main reason for such a reputation is this strains fruity terpene profile which delivers unique aromas and flavours. Many say that it smells and tastes like Skittles Candy.
Zkittlez is the melding of two potent cannabis strains, Grape Ape, an Indica, and Grapefruit, a Sativa, creating this now-famous hybrid. It gives the user a balanced effect of both body and mind. Being the offspring of two fruity strains, Zkittlez was destined to have a sweet terpene profile. While it still smells like cannabis you can also anticipate aromas and flavours reminiscent of a bag of fruit candy with a citrus tang.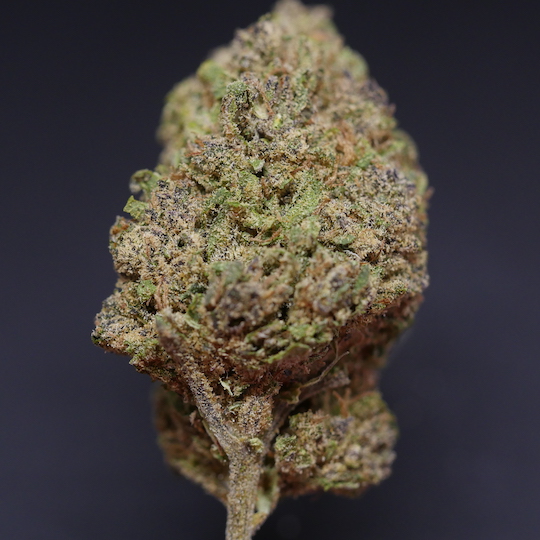 Effects of Zkittlez Strain
Zkittlez is a fast-hitting high, which starts in the eyes, quickly giving you focus and the feeling of having enhanced senses. If you have an artistic side now would be a great time to indulge in or watch this type of activity. The Sativa effects of Zkittlez help to motivate you to do tasks that require a higher level of concentration.
This strain can alter your perception of time making it appear to pass much slower. As your buzz develops it will fill your entire body with a sense of calm relaxation. This relaxation is just right to offset the mind-racing effects of its Sativa heritage. Because it is more of an Indica try to get the things accomplished early on during the high as its relaxing effects tend to overpower the Sativa effects.
To finish the high, you will feel a bit lazy and less willing to do any task. This is not shocking given the hybrid strain rollercoaster ride that your brain has been on. But don't worry it's actually cool to feel your body winding down to super chill mode.
Zkittlez is a great mid-afternoon pick-me-up when you are feeling unmotivated to finish your day. By the time the buzz wears off, it will be time to wind down for the evening. The long-lasting high means that you have plenty of time to complete your day more invigorated and focused. Then have some buzz left over to sitting back and relax your body.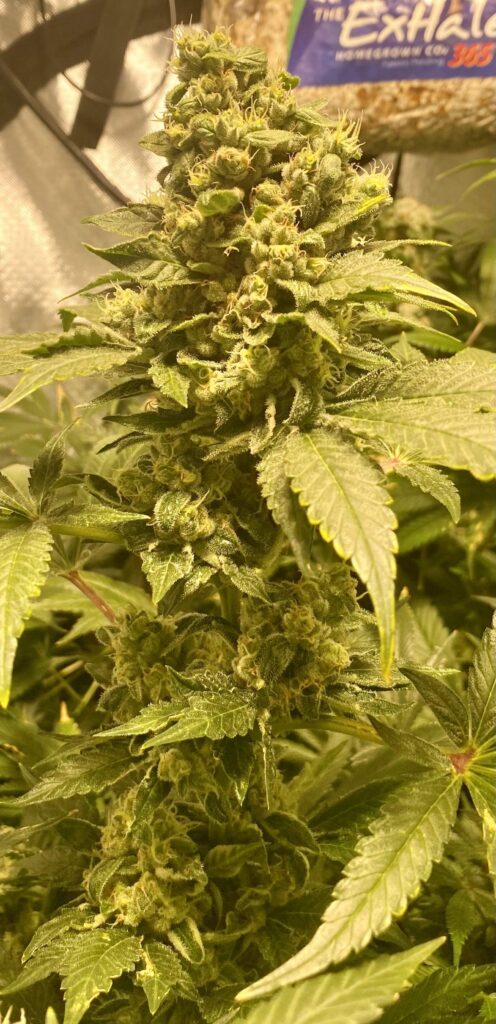 Appearance
Zkittlez's buds are tightly packed and resemble the flowers of most Indica strains, rather than looking like a typical hybrid strain. The buds are quite mesmerizing due to their unique colours, a mix of bright green shades that are tinted with orange and purple. Being a top-shelf cannabis strain its flowers are covered with a white trichome blanket, even covering some of the fan leaves and stalks.
Zkittlez's leaves resemble Sativa leaves but are short like Indica leaves. This Indica Bud with Sativa Leaves growing pattern gives the strain a unique appearance to the trained eye.
You are probably wondering how to grow your own Zkittlez by now, so let us take a look at its ideal growing setup.
THC Content – Highest Test
Zkittlez is top-shelf cannabis with THC levels reaching as high as 28%, depending on how this plant is fed and cared for.
Typical to a strain with high THC levels you can expect the initial buzz to be cerebral. Accompanying that initial uplifting effect the strain will also soothe you with its relaxing effects. This combined effect will leave the user in a state of flavour-packed bliss.
This is a cannabis strain that grows best in hot, humid parts of the world. Depending on where you live, Zkittlez can be cultivated outside. The colder nighttime temperatures will enhance the colour profile, bringing out more purple.
It can also thrive when grown indoors but if you are looking to develop a colourful pheno then you will have to subject your plant to those same lower nighttime temperatures.
You can expect Zkittlez plants to finish in about 7 to 9 weeks after flowering begins. They will deliver incredibly large yields outdoors and indoors with proper grow room conditions.
Medical Benefits
One of the main medicinal applications of the Zkittlez strain is to help cope with stress and depression. Thanks to Zkittlez's Indica heritage, it can help to relax you while still keeping you mentally focused enough to have a productive day. The calming buzz, focused mainly on the body help to ease stressful situations. The cerebral effect of Sativa genetics will help you focus on something to help distract you from your troubles.
The cerebral(mental) buzz that Zkittlez delivers in abundance also makes it a top choice for patients who suffer from ADD and ADHD. It will focus your thoughts, slowing your mind to the task at hand without letting distractions creep in.
Its finishing effect is a deep sense of relaxation making it ideal for people suffering from sleep disorders. As the buzz diminishes it gives the user a mellow, sleepy effect that envelops your body.
Another medicinal effect of most cannabis strains is the accompanying munchies. As a result, it is often prescribed for patients struggling with a loss of appetite as a result of illness and medical treatment.
Possible Side Effects
This is a strain with very few negative side effects, and even those that it does have are more of an annoyance rather than an actual medical concern. The most reported side effect of using Zkittlez is the famous cottonmouth that you can expect from almost every joint you smoke. This is also accompanied by dry eyes for a large number of consumers of the strain. Both of these effects are not medical concerns and are easily treated.
It is worth mentioning that if you are a person who has a low weed tolerance or suffers from panic attacks, you should take Zkittlez with moderation. Due to its very high THC levels, some users have reported an increase in paranoid thoughts, as well as the higher THC causing panicked thoughts.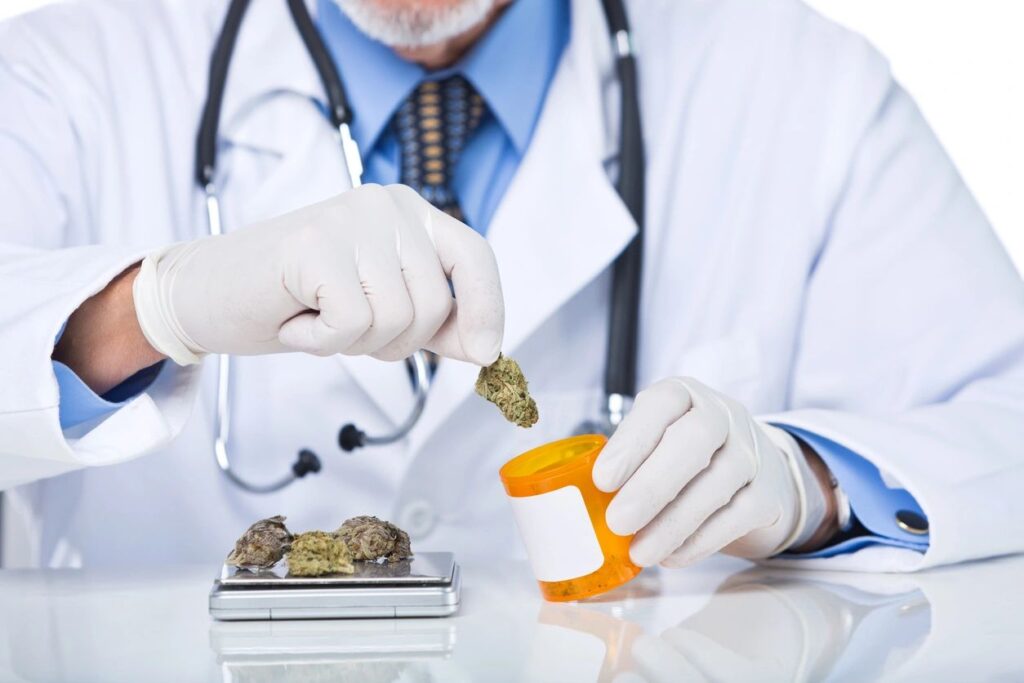 Final Thoughts on the Zkittlez Cannabis Strain
Zkittlez is a fun strain to grow and smoke, its fruity aroma and high yields make it one of the most popular seed strains on the market. Famous for its terpene profile matching that of a bag of Skittles candy and its cerebral high makes smoking Zkittlez a treat.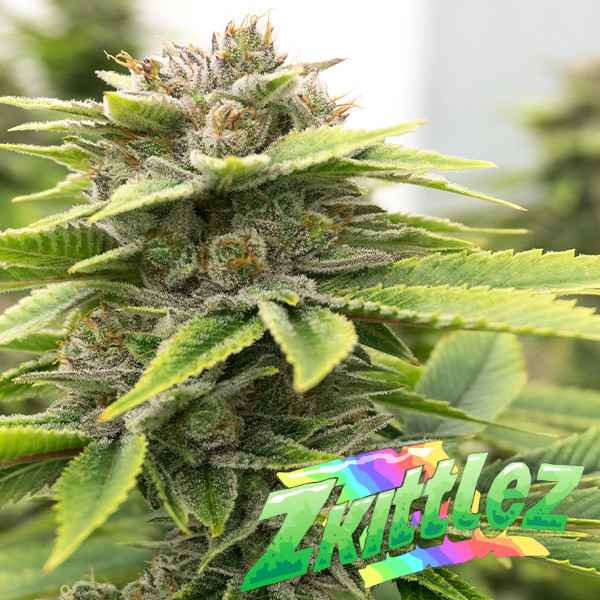 Zkittlez Seeds | Feminized Photoperiod
Strain Characteristics

| | |
| --- | --- |
| Breeder/Brand | Zkittlez Seeds |
| Genetics | Grape Ape x Grapefruit |
| Pack Size | 5 Seeds |
| Flowering Type | Photoperiod |
| Sex | Feminized |
| THC Content | 19- 28% |
| Grows | Greenhouse, Indoors, Outdoors |
| Max Flowering Time | 53-63 Days |
---