How to Achieve the Best Autoflower Light Cycle
---
WHAT'S THE MOST EFFECTIVE AUTOFLOWER LIGHT SCHEDULE?
Autoflowering cannabis strains flower based on time passed, rather than a change to their photoperiod(light cycle). Nonetheless, providing your autoflower plants with the correct amount of light remains critical to ensuring the highest yielding autoflower harvest. Keep reading to learn techniques with lighting for autoflower cannabis strains.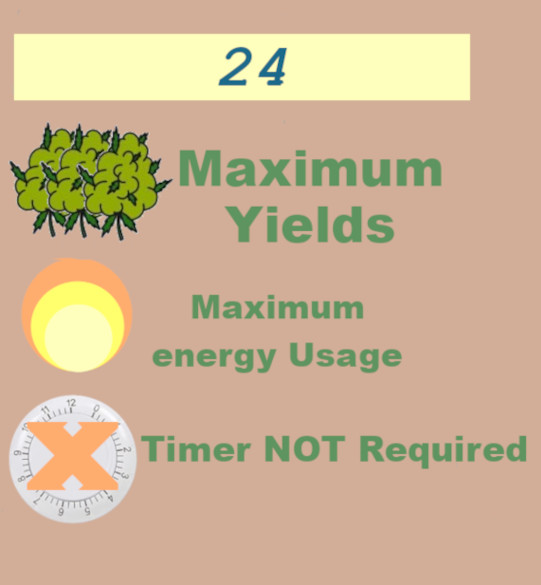 MAXIMUM YIELD AUTOFLOWER LIGHT CYCLE 24HR
Some growers will even give their autoflower plants a full 24 hours of light, justifying it by saying that it maximizes vegetative growth. Growers who use an 18-hour light cycle, argue that this light cycle gives their plants a 6 hour period that is needed for healthy autoflower growth.
There's no general consensus on whether autoflowers grow better with 18 or 24 hours of light. Great results have been achieved by growers using either light schedule. To make your decision, we recommend trying both light schedules and stick to what works great for you.
---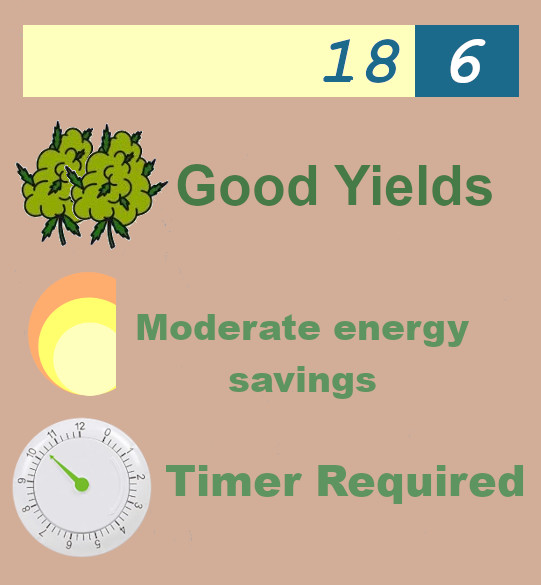 GOOD YIELD AUTOFLOWER LIGHT CYCLE 18/6
Autoflowers have a very short vegetative phase and typically grow shorter than the same strain of photoperiods so you should give your autos at least 18 hours of light. This allows for a large canopy of vegetative growth, without wasting too much money on electricity. Your autoflower plants require equal light to traditional photoperiod cannabis strains, they just use it to start the bloom growth stage.
---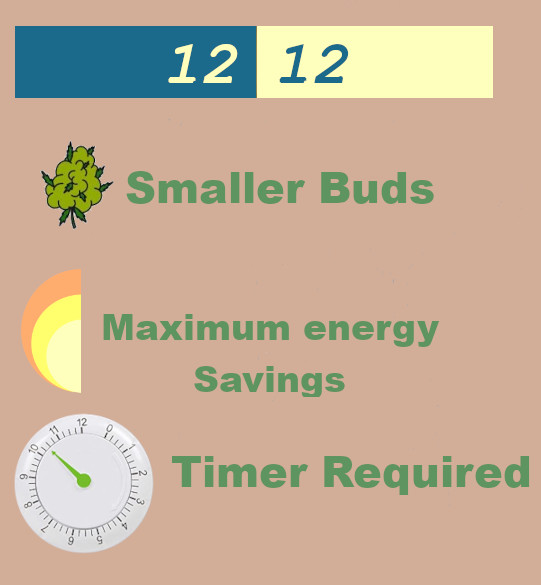 ECONOMICAL AUTOFLOWER LIGHT CYCLE 12/12

Some cannabis cultivators choose to keep their autoflowers under a 12/12 light cycle during the flowering stage. That works as well, as auto flowers grown in these light conditions can still produce a modest harvest. Just keep in mind that the buds you harvest under a shorter light cycle may be popcorn buds and much smaller than what you would harvest under an 18–24hr cycle.
Heat buildup concerns: If you live in a country with a hot climate, you may want to turn the grow lights off during the day to prevent overheating your grow area. This is the only case where we would recommend growing your autos under the 12/12 light cycle. Turn your lights on at night would be your best bet to avoid giving your plants heat stress.

Growing auto flowers alongside photoperiod strains:
If you're growing autoflowers in the same grow room as photoperiod strains, you may have no choice but to put your autoflower plants in the same room as your flowering feminized plants. This means giving your autoflowers only 12 hours of light per cycle.

PERFORMING SOG WITH AUTOFLOWERS TO MAXIMIZE LIGHT CYCLE
Sea of green(SOG), is a cannabis training technique that can produce some huge cannabis harvests. Instead of getting your plants to grow as high as possible, SOG means growing smaller plants close to each other to produce a uniform plant canopy that maximizes light exposure during the daylight cycle.
SOG is a great growing technique to use with autoflower plants because it utilizes the naturally smaller grow stature of these cannabis varieties. While technique changes from grower to grower for SOG, most will plant between 4–16 plants per square yard(meter), depending on how large they let each plant get.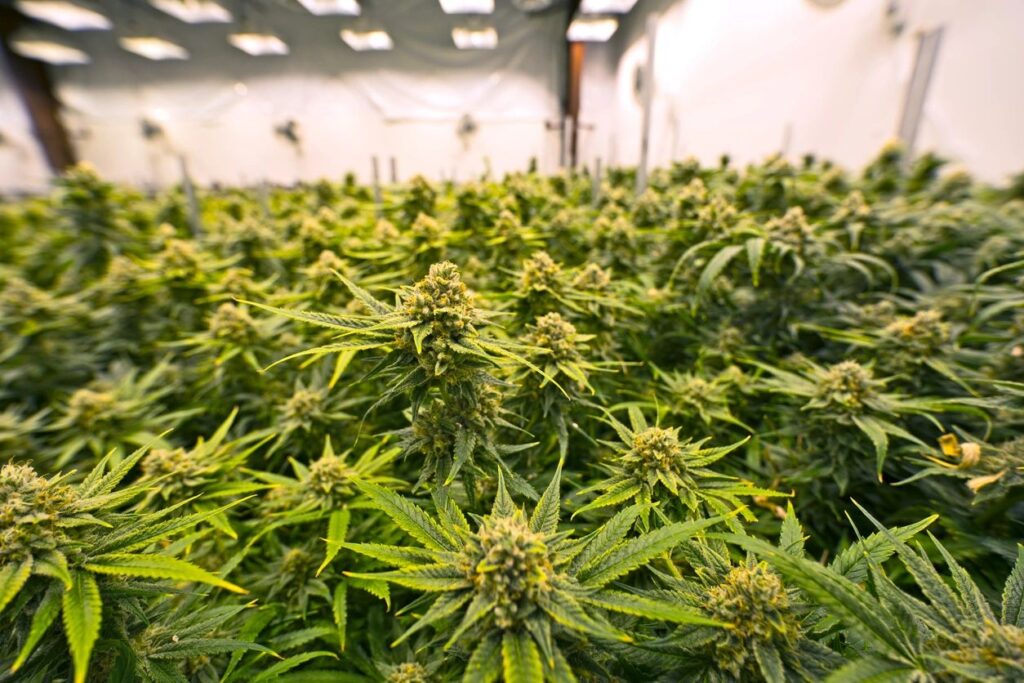 Depending on the genetically determined size of the particular strain you're growing. We recommend using 2 or 3 Gallon pots and growing around 6 plants per square yard(meter). This should utilize all the growing space and lighting. Also provide your cannabis plants with enough airflow over the canopy to avoid getting mold. If you choose to grow more than 6 plants per square yard(m²), remember to plant in smaller pots to avoid overcrowding your grow room.

A NOTE ON LIGHT SPECTRUM
Using the proper light spectrum is also important when growing any type of marijuana plant, including autoflowers. Because autos have shorter life cycles, you want to maximize the quality of nutrients, the light you give them.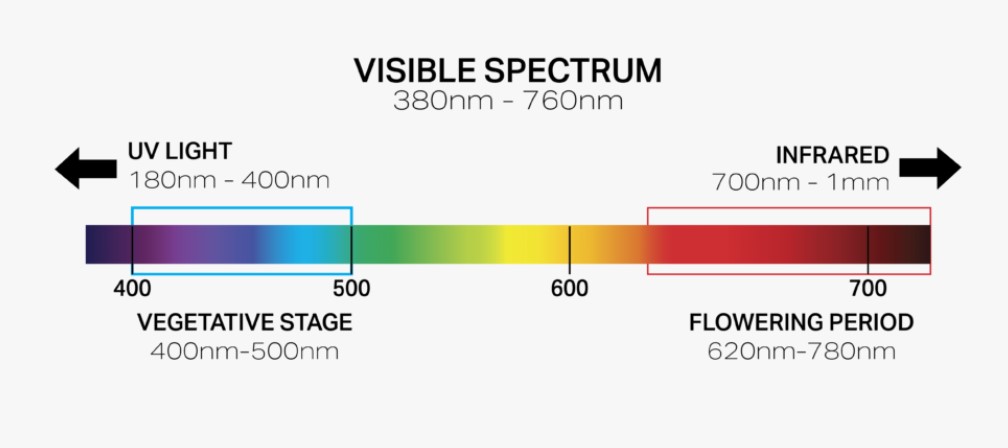 As you might recall from high school science, when you shine a light through a prism, you see the different color spectrums. Plants respond differently to these different light spectrums. Like with a photoperiod weed strain, we recommend following the light spectrums shown below:
5000-6500K blue light during cannabis vegetative stage: Blue light has been proven to enhance vegetative growing. It helps marijuana plants grow shorter and stocky while keeping stretching to a minimum.

2700- 3000K red light during the cannabis flowering stage: This spectrum of light is ideal for blooming because it encourages budding. It also encourages and a little bit of stretch, which helps your plants to produce big, dense buds.

EXTRA TIPS FOR GROWING GREAT AUTOS
If you are new to the world of autoflower growing, follow these simple steps for a larger harvest:
Pick a high-yield autoflower strain: Not all autoflower seeds are genetically equal. Be sure to choose a high-yielding autoflower strain if the final harvest weight is important to you.
Plant in the final container from the start: Transplanting autoflower cannabis plants always causes a growing pause and plant stress. Since autoflowers cannabis can go from seed to chop in as little as 8 weeks, it's best to avoid transplanting. Also try to always put your germinated seeds straight into their final growing pots.
Use a well-aerated grow medium: This helps encourage root branching and canopy growth.