Which Gets You Higher? Indica Or Sativa
Cannabis strains are categorized as Sativas, Indicas, or hybrids.
Many marijuana enthusiasts often claim they prefer one type of weed over the other based on the effects the strain induces. Some people usually prefer Indica over Sativa because they believe that it gets you higher than its counterpart. However, given the popularity of cross-breeding, can we really tell what the exact effects of each type of marijuana will be?
Although there are general guidelines when it comes to choosing the right strain, there are also some pervasive myths floating around the differences between Sativa and Indica. In this article, you'll learn everything you need to know about both types of marijuana and whether or not one of them can get you higher than the other.
What You've Probably Heard About Indica vs. Sativa
The first thing most people hear about cannabis strains is that Indicas have higher levels of CBD, while Sativas have more THC. Whatever version you've heard, it's a myth. With such a wide variety of cannabis strains available on the market, we can't really tell whether a particular type of weed (as in the Sativa vs. Indica comparison) will get you higher.
There is no link between the number of cannabinoids and the fact that a strain is Sativa or Indica-dominant. You can easily find high THC content in both Indicas and Sativas. Similarly, there are Indica and Sativa strains with an impressive amount of CBD.
Body High vs. Head High
Sativa Marijuana
Generally speaking, Sativas tend to induce a more cerebral or head high, while Indicas are more likely to produce a heavy body experience. But it's not always the case. It all boils down to the combination of terpenes and cannabinoids in a particular strain. Although we don't know much about these compounds yet, we can tell that Indicas usually come with higher amounts of a terpene called "myrcene". Many cannabis experts claim this terpene is responsible for the sedative effects of Indica-dominant strains.
On the other hand, it's not clear how Sativas tend to induce a more cerebral high. Researchers believe that THCV, found in many typical sativa strains, is producing more stimulating effects while reducing hunger at the same time.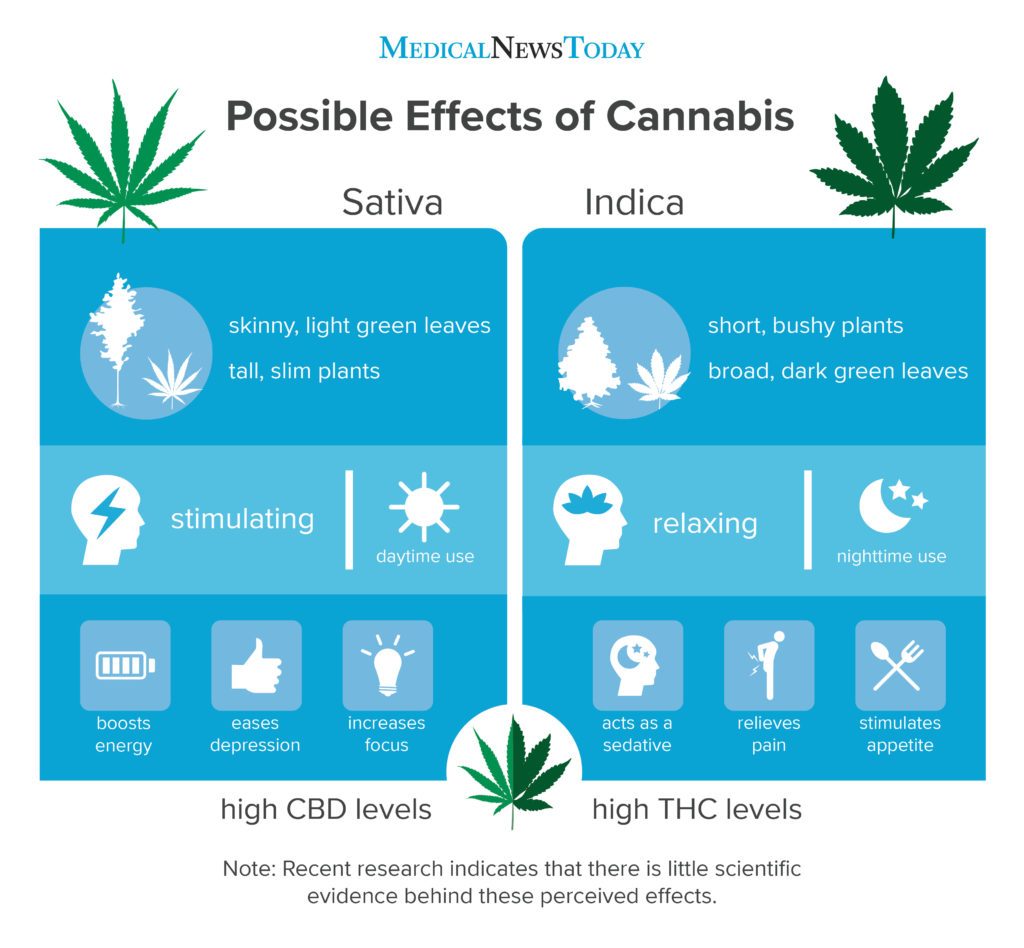 The Effects of Sativa and Indica
As mentioned before, there are many different cannabis strains to select from, but here's a general guide on the differences between Indica vs. Sativa.
The Effects of Indica
Let's start with Indica-dominant cannabis strains and the effects they produce. Many people experience a boost of appetite, usually called "munchies", so smoking Indica strains can lead you straight to your fridge.
Indicas usually induce a heavy body high while promoting good sleep and effective pain relief. Given this, those strains are ideal for nighttime use.
As for the medical use of marijuana, Indicas are known to reduce inflammation, seizures, and muscle spasms. They also tend to alleviate vomiting or nausea.
The Effects of Sativa
As for Sativa-dominant strains, these tend to promote a more cerebral and stimulating high
Additionally, Sativas boost creativity and focus, enhancing an overall sense of well-being. Therefore, these strains are often recommended for daytime use.
As for their medical benefits, Sativas are recommended for alleviating depression and reducing anxiety. They also relieve migraines and improve cognitive function.
Indica vs. Sativa: Growing Characteristics
Indica cannabis strains usually grow short, bushy, and wide, reaching up to 6 feet in height. They have broad and thick leaves and shorter flowering periods than Sativas. Although Indicas have lower yields than their sativa counterparts, these plants produce more resinous and dense buds within 45 to 50 days.
As for Sativas, these plants tend to grow taller than Indicas, reaching even 20 feet. They also have tall branches and thin leaves and provide huge yields within 60-90 days.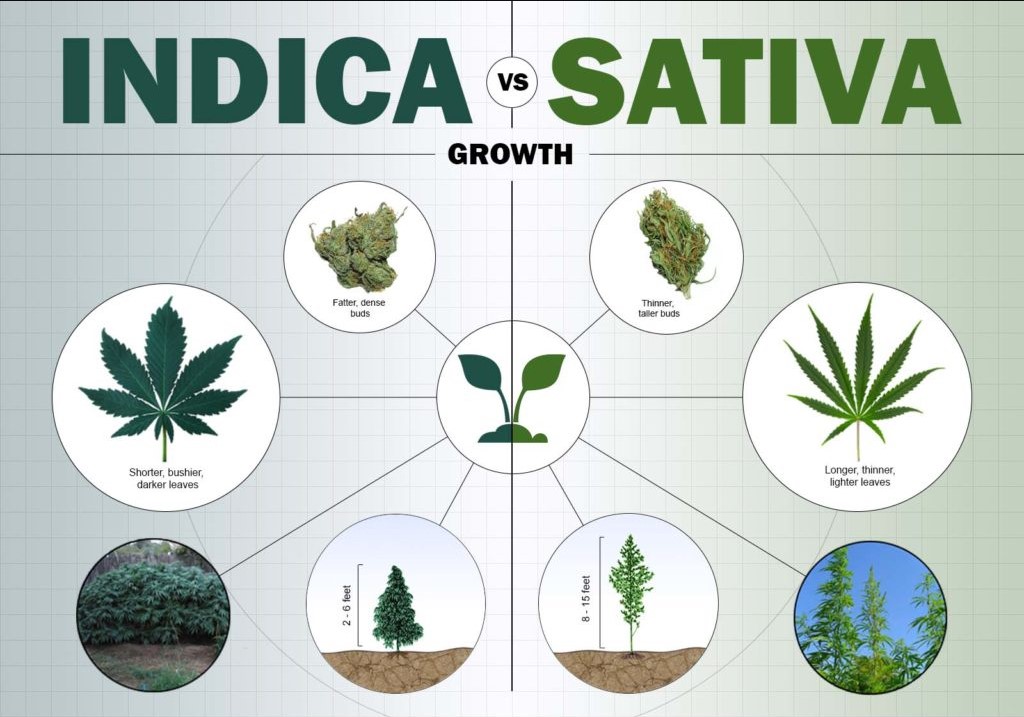 The Key to Choosing the Right Strain
Although Indicas and Sativas generally differ in terms of the effects they provide, we suggest that you look at cannabis from more than just the strain perspective.
Given the number of different cannabis strains available on the market, it's better to consider each bud's specific terpene and cannabinoid profile.
Here are some tips to get you started:
Cannabinoid Profile
Although we usually link only THC to the effect of being "high", it's not entirely true.
Marijuana comes with over 100 different cannabinoids, including CBD and THC, but there are also other chemical compounds, such as terpenes.
With so many compounds found in cannabis, it's the unique combination of these cannabinoids and terpenes working together to provide the strain with its unique profile of effects
Here is a simple way to classify cannabis strains:
High THC strains are usually the most potent,
High CBD strains provide therapeutic benefits while mitigating the "high",
Balanced THC-CBD strains give you the best of both worlds, producing intoxicating effects without overwhelming the user with the "high".
It all comes down to trying various strains and finding which one works best for you. The final experience may vary depending on your mood, environment, and whether or not you're in need of any medical benefits of cannabis.
Indica vs. Sativa: Which Gets You Higher?
As you've probably noticed, we can't really tell whether or not one type of weed can get you higher than another. In fact, although classifying marijuana as Sativa or Indica is definitely useful, it's also very imprecise.
The best thing you can do is to learn the differences between various strains and understand how the plant works, and what to expect after smoking a particular strain.