Bruce Banner Strain Review, Effects, and Growing Tips.
Just like the Green man himself, the Bruce Banner strain is bulky, large and green, and also very strong in terms of THC content. This strain when grown correctly can reach THC levels around 29%, which does wonders for chronic pain conditions. Its flavour and aroma don't match its tough persona however, it has an aroma similar to candy and berries, and a flavour that is quite delicate and sweet.
| | |
| --- | --- |
| Strain | Bruce Banner |
| Variety | SATIVA 60% – INDICA 40% |
| Strain Genetics | OG Kush x Strawberry Diesel |
| Flowering Time | 9 – 10 Weeks |
| Where to Grow | Indoor, Greenhouse, Outdoor |
| Harvest Month | Mid-Late October |
| Medical Conditions | ADD/ADHD, Anxiety, Depression, Nausea, Stress, Pain |
| Taste / Flavor | Berry, Diesel, Sweet, Candy |
| Effect | Creative, Euphoric, Relaxing, Uplifting |
| CBD Content | >1% |
| THC Content | Up to 29% |
| Yield | 250 -500g/m² |

Given the name of the Hulk's alter ego this strain will energize you with a cerebral high yet relax you into a state of creative euphoria. It will lift your spirits if you are feeling down and even may encourage a little uncontrollable giggling.
Its Sativa genetics will engage the mind, while the Indica side will relax you, and the high THC levels will help to control any aches you may have. Originally created by the brilliant minds over at Delta9 Labs, this strain has become one of the most sought-after seeds on the market.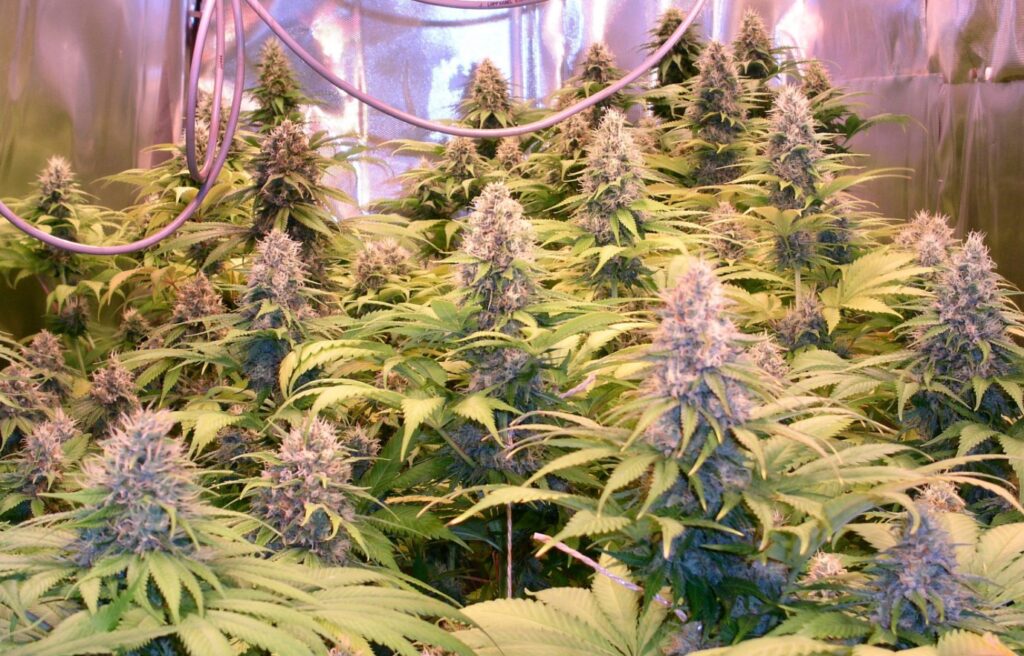 What Is the Bruce Banner Cannabis Strain?
Categorized as a hybrid cannabis strain, with slightly more of the Sativa genetics passed down. Bruce Banner strain is mentally engaging while also relaxing the user. A great combo for those who want a daytime strain that also has some great Indica traits.
The parents of this hulky cannabis strain are superheroes themselves when it comes to reputation. The world-famous OG Kush strain and Strawberry Diesel were crossbred to bring us a rather tasty bud that is equally effective as a medicine. Mostly known for the third version of this strain Bruce Banner #3, a slightly more potent strain than its sisters, all of them delivering a THC content.
Bruce Banner Cannabis: Aroma, Flavor, and Appearance

Because of its diesel background, the smell of Bruce Banner cannabis is quite unique, careful where you open the baggie, it will fill the room with its funky sweet aroma.
The flavour of this strain is said to be more pleasant than the aroma because it tastes like fruity candy with an earthy cannabis undertone. Some compare it to the taste of freshly picked strawberries which makes sense considering its strawberry genetics. It has nothing in common with the Incredible Hulk when it comes to aroma or taste. If you are someone who chooses their weed by the taste, this one delivers and the best part is it also has incredible amounts of THC.
The appearance of course will match the vibrant green image you have when you think of the Hulk. With Dark green fan leaves matching the colour you imagine, the sugar leaves will have their dark colour lightened by the thick blanket of trichomes. To contrast the greens it has a generous amount of orange brassy pistils poking out through the snowy coated buds.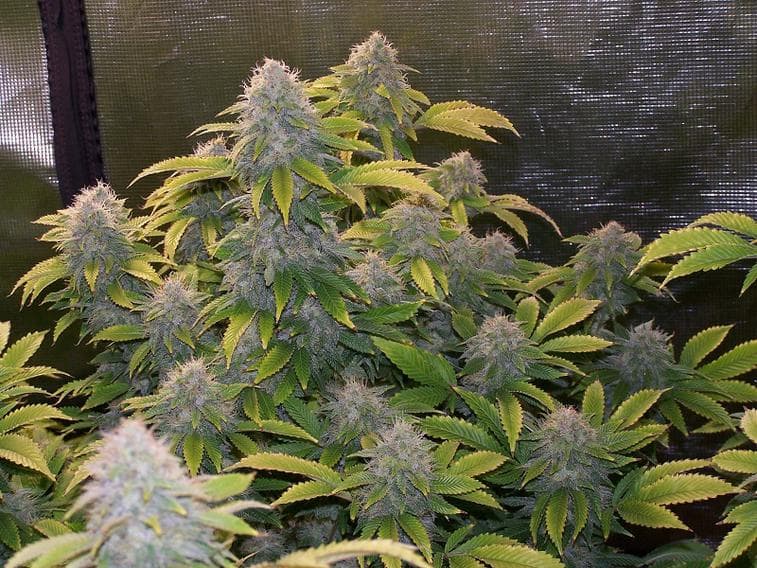 Bruce Banner Cannabis Strain Grow Info
Bruce Banner has a stature similar to its OG kush parent when grown, reaching tall heights. If you plan on cultivating this strain indoors make sure you have the height to accommodate vigorous growth.
Although this plant can be grown indoors with great success, those living in warm dry climates should grow this beast outdoors. Growing Bruce Banner seeds outdoors will dramatically increase your final yields. Not all of us have the luck to be growing in coastal southern California where these plants can grow wild incredible yields so most of us resort to growing it indoors.
This strain is reasonably easy to grow, falling in the moderately difficult to grow category. This medium rating is because of its need for close monitoring of climate control.
On a positive note, this weed strain is actually quite resistant to everyday mould, powdery mildew, pests, bugs, diseases, and more, making that part of growing low maintenance.
Flowering can take up to 10 weeks for the Bruce Banner strain, and if you want to enjoy more of the Indica effects then harvest a week early. Outdoors this strain is harvested during early October, with incredible size and yields as high as 2 pounds per plant.
Indoor crops will fall short of the incredible outdoor harvest but you can still expect as much as 22 oz per square meter. If you have any growing experience at all and want an incredible bang for your buck then the Bruce Banner strain is the strain to grow.
Bruce Banner Cannabis: Mind and Body Effects
This strain is almost a balanced hybrid that delivers traits from both sides of the cannabis effects spectrum. These effects are spread out over the course of the high with Sativa effects leading the way. You can expect an almost instant feeling of energy and vitality, with bouts of giggling mixed in. This is followed later in the high with the relaxing effects of the Indica genetics.
Bruce Banner will elevate your mood and melt away any stress while giving your brain a boost of creativity. Any pains or aches will ease with the effective relaxation properties of its Indica side. The peaceful high won't leave you couch-locked or make you tired, it will leave you energized and tranquil.
The journey of the Bruce Banner high is a blend of mind and body sensations that is exquisite and uniquely connected to its highly potent parents.
Medical Benefits
This strain is mostly consumed by those treating some sort of chronic pain or stress. Because of its high potency which leads to a body numbing effect, it is perfect for treating pent-up physical stress. Its Sativa side will treat the mind delivering a boost in mood and distract the mind from your daily monotony.
Consider consuming the strain in its concentrated form for more serious chronic pains. It is available in many forms, and readily available at most dispensaries. All three of the bruce banner phenotypes make amazing concentrates, which only amplify the already heavily present 'high' inducing cannabinoid component. In its concentrated form, it is an insanely powerful treatment for those who need an immense dose of cannabis medicine.
People suffering from migraines have reported some relief when medicating with this strain. Also, those suffering from chronic fatigue benefit from its energizing and invigorating energy boost. Medicinal cannabis users treating depression, sadness, and anxiety, can medicate successfully with Bruce Banner but should tread lightly due to its super high THC content.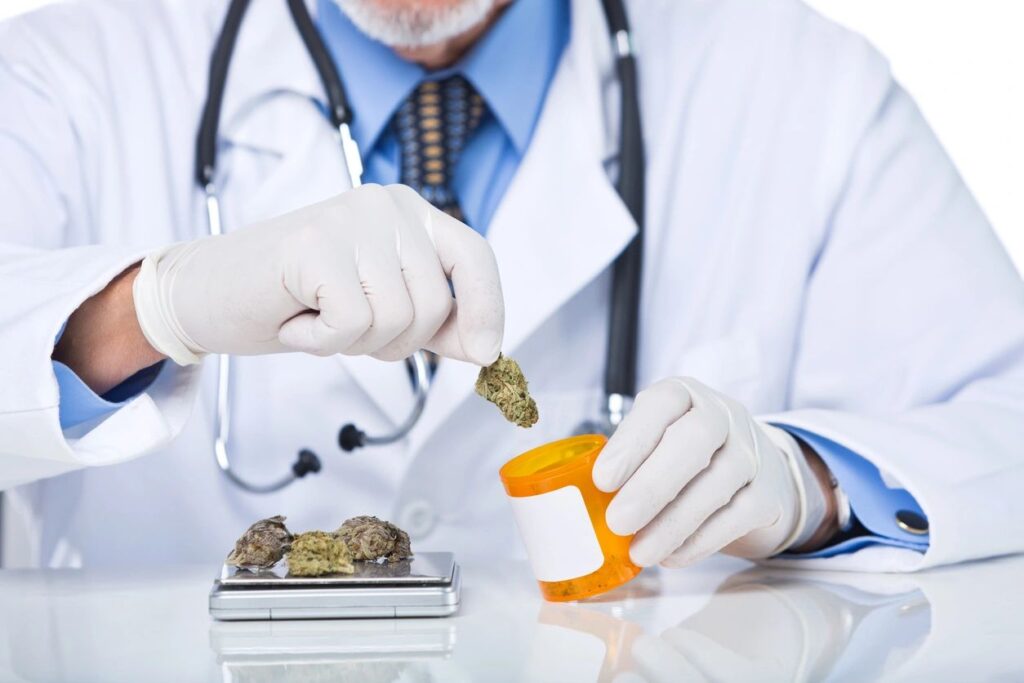 Negative Side Effects
The standard weed cottonmouth and dry eyes are the worst of the side effects for Bruce Banner. If you are going to use cannabis, unfortunately, you will have to plan ahead for these negative effects. In some very rare cases, those suffering from mental issues have reported feelings of anxiousness when consuming very high dosages.